St Patrick's Day marketing inspiration from Guinness
Published: 17 March 2015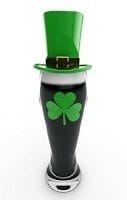 With St Patrick's Day on the horizon, there's no better time to look at some of the brewery's finest marketing moments.
Guinness is one of the world's oldest beers, reaching all the way back to 1759, so it's no surprise the company is known for its iconic marketing.
The Guinness Book of World Records
Before Google, people had to turn to books to settle debates, so when the managing director of Guinness couldn't find out what was the fastest game bird in Europe, he ordered that a book be created to answer such questions. The first publication was given away as a marketing ploy, and since then it has won its own award for being the best-selling copyrighted book series in the world.
The world's largest St Patrick's Day party
That isn't the only world record Guinness holds it also organised the world's biggest ever St Patrick's Day party. As an Irish company, the link was obvious, and almost half a million people accepted the invitation to attend the 2012 party (also giving it a world record for the highest number of online pledges).
Arthur's Day
Being so closely linked with a major holiday might be enough for most companies, but Guinness went one step further by creating their own special event: Arthur's Day. First held in 2009 to mark the 250th anniversary of the brewery's establishment, Arthur's Day was named in honour of the original Mr Guinness. The celebrations were held on five consecutive years, with participants asked to raise a glass to Arthur at 17:59 (5:59pm) enough time to get to the pub from work and also a nod to the year Guinness was established.
The health benefits
Because of its thick consistency and unique taste, it's not hard to think of Guinness as different to other beers. Because of the way it's made and its ingredients, it is actually high in iron, leading to a series of advertisements with taglines such as "Guinness is good for you" and "Guinness for strength". These helped put the drink on another level and even led to it being used in Irish hospitals at one stage to help women regain strength after giving birth. As with any alcoholic drink, Guinness should be consumed responsibly.
Each of these initiatives has helped Guinness build its brand globally, go down in history and become a major household name generally by owning its brand personality and giving its audience what it wants.
Contact Snap for help creating a strong brand identity that will maximise the success of all your marketing campaigns.