Sponsorship yielding Olympic Gold results
Published: 17 May 2013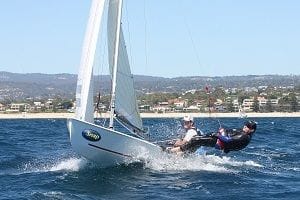 Out on the water
In early February Snap West Perth sponsored the Snap WA Sharpie State Championships regatta at Fremantle Sailing Club.
Fremantle Sailing Club was the perfect venue for guests to watch from spectator craft, and Snap entertained a number of clients during the course of the regatta.
Snap West Perth's sponsorship assisted the amateur group of yachts people to have the regatta conducted by a Principal Race Officer from the International Sailing Federation 2011 Olympic lead up team. 100 members in total competed in the event, including an Olympian, World, National and State champions creating quite a spectacle for the Snap guests and other spectators.
2008 Beijing Olympics Women's 470 class Gold Medallist and current Australian FX49 high performance dinghy champion Tessa Parkinson competed in the event. Tessa was using the regatta as part of her training for the Rio Olympic Games in 2016.
Tessa enjoyed the regatta and has committed to training monthly at the Fremantle Sailing Club until December 2013 to guide the entire Sharpie class to the nationals in Perth in January 2014. This is adding a level of professionalism to the group that hasn't been seen since the heydays of 1987 when they were a dominant force in the Australian Sharpie Class.
The event was such a success that Snap West Perth will now sponsor the National championships to be held at the end of the year.