Social media for business 101
Published: 31 July 2014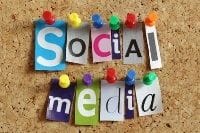 Social media allows you to reach a wide audience and better engage your current clients.
Choose the platform that best suits your needs and business style and start building your own online community.
Facebook
As the reigning social media champion, with more than 800 million daily active users, Facebook is the most popular choice for many small businesses. Facebook allows you to create a dedicated business page and advertise your services and products in a number of different ways, from photo features to events.
However, for your advertisements to reach your entire audience, you will have to pay to boost or promote your updates. Prices start at only a few dollars. Facebook is a good place to start your social media campaign, but do bear in mind that 45 per cent of the people who like your page are there for inside info and special deals make sure you cater to them!
Twitter
Founded in 2006, Twitter has become one of the world's most prominent social channels. While still focused on short, sharp bursts of information only 140 characters long, Twitter has branched out to make it easy to embed photos, videos and rich media. The introduction of Twitter Cards also makes it easy to drive client engagement and downloads.
Users tend to treat Twitter as a way of quickly finding content, and it has replaced RSS or news feeds for many people. Engage by participating in Twitter chats that are related to your products, follow likeminded users, asking questions, offering special promotions and always letting your business personality shine through.
Google+
While Google+ has a smaller audience share than the aforementioned social networks, it does offer some strong advantages for businesses. For a start, a presence on Google+ can help a business rank well on search engine results pages, and by creating a local business profile on the site, your business can appear on Google Maps.
Make use of the platform's Circles tool to separate your connections into potential leads, clients and influencers so you can target your actions to meet their needs perfectly.
Pinterest
With the focus firmly on images, Pinterest has captured public imagination since its beta launch. It provides online pinboards that allow users to scour the web for things they like or are interested in and then save them to their personal boards.
It's a particularly good medium for businesses with physical products, as it provides an easy avenue to showcase them. What's more, clients referred via Pinterest are likely to spend twice as much as those who come from Facebook or Twitter.
Social media offers one of the most cost-effective ways to connect with your clients.
For more advice on building your online business profile, contact your local Snap Centre.