Social media: Dos and don'ts for business
Published: 25 October 2012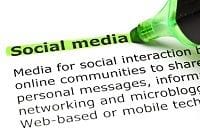 The value and power of Social Media
Most businesses know the value of social media, utilising Facebook, Twitter, LinkedIn, Pinterest and the like to promote their business. Social media is an easy and effective way of communicating with clients, but like all forms of business communication, a little guidance can go a long way. Here are some of our dos and dont's for social media.
Do interact: Take the time to interact with your existing and potential clients to show you care about them and their input. Also interact with others who you find interesting or relevant to widen your circle of influence.
Do try various media: Don't limit yourself to words. Use videos, images and infographics to get your message across. Visual aids are often more appealing and more frequently shared.
Do your research: Understand your audience so you can provide information that interests them. This will help maintain and grow your following.
Do have a plan: Assign someone in the business who knows it well to oversee your social media. Create a strategy, be consistent in its execution and track the results. Making it up as you go along generally won't cut it.
Do set goals: Set realistic and attainable goals to ensure you get what you set out to achieve.
Do listen: Pay attention to what's being said about you in social media circles. Knowledge is power use this to refine your approach and meet expectations.
Don't be unprofessional: This is not your personal profile. Swearing, highly-negative or offensive comments or posting obscene images can tarnish your brand's image. Beware of anything controversial.
Don't ignore negative reactions: Always address negative comments or reactions. A prompt, considerate and helpful response will show you care and are doing your best to provide client satisfaction.
Don't constantly sell: People generally use social media to relax, for fun and to engage with others. They don't want to be bombarded with constant sales pitches and self-promotion.
Don't treat all social media the same: Every platform is different so will require a different approach. Understand the strengths and weaknesses of each platform to dictate your strategies.
To find out how we can help with your business's website, SEO, blog or email marketing strategies, contact Snap today.