Snap's sporting life
Published: 1 March 2013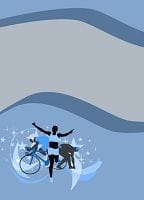 Sport all round
When I first started working at Snap ...
.... I was surprised to learn that my colleagues participated in a wide variety of sports, ranging from football of all kinds, softball, rollerderby, netball, bobsledding, snowboarding, skiing through to the more traditional pursuits of running, swimming and bike riding. Even table tennis takes on a competitive edge at Snap! And quite a few members of the network like to combine all three, participating in the gruelling event known as Ironman (or triathlon).
Now I'm not really a sporty spice, preferring the gym or a good walk, but I know these type of events are a great way to bring a network together, either on the competitors or supporters side as part of a community of individuals working towards a common goal.
We have received emails from our support camp, which give an insight into the preparation that goes into an Ironman campaign, that I thought I would share with you this week.
The first is from a competitor's wife (we'll call her Mrs T)
"As a supportive wife or partner of an Ironman competitor let me share a few of our Ironman supporter commitments we have :
Healthy meals are cooked but are rarely eaten together as our triathletes are out training after a day at the office
Carbs with meals are always questioned as they need the carbs but don't want to eat them (so they can fit into their lycra)
The household pantry needs to supply Power bars and Gels move over any Haig's chocolate
We get woken up on Sunday mornings at 5 30 am, as they prepare for their big ride of the week
We have difficulty in justifying our beautician visits being the same commitment as their visits to the Physio or Tri Coach program
We wash and wash and wash loads of smelly lycra
Our Annual leave is taken over by Triathlon events
But we do get the remote control whilst they are training or after training as they snore on the lounge
BUT we truly enjoy supporting the event and have so many very close like-minded good friends from Triathlon, we recognise the achievement which often bring us to tears of joy and relief as they cross that IM finish line"
The second is from Angie McMartin, another support partner:
"I'm part of the Snap Supporters team for 2013. My husband, Trent Cunnane is racing IM Melbourne alongside our neighbour, Steve.
Steve and Trent have been my support crew for a few Ironman races over the last 3 years. I'm usually the only one racing from our street but even in their idle years, they helped me train. In fact, Steve takes his training very seriously, especially when he isn't the one racing. Most training sessions usually include a meal or two. When Steve is ride captain, there is inevitably a Macca's or a bakery stop during the ride, then ALWAYS after the ride. He's the only person I know who can put on a few kg's after riding 5 + hours! The two of them used to think it was hilarious to divert the car to Macca's on the way home or instead of swim training, while I sat there being cranky, drinking water whilst they ate their McValue meals and drank Coke. During my last Ironman campaign, we set our bikes set up in Steve's garage so we could still ride when it was dark. Pizza Cutters is on speed dial, as it has always been our favourite post training meal and they get calls often! Steve has also been known to have a surprise pizza delivered to my bike handlebars for me to eat during my bike session, just in case I got hungry. That's the thoughtful kind of guy he is.
I'm really enjoying driving the support vehicle on the weekends and to swimming (with no detours!!). Race day is going to be hard work, and I am just as nervous as I get when racing. I do think the Ironmates should qualify for a medal, a tshirt and a towel like the competitors! Get onto that Steve!"
The Snap team will be competing in the 2013 Melbourne Ironman on Sunday, March 24, 2013 - 3.8 km swim / 180 km bike / 42.2 km run.
IRONMAN Ordinary people with extraordinary determination