Snap Norwest moves mountains for their clients
Published: 1 February 2013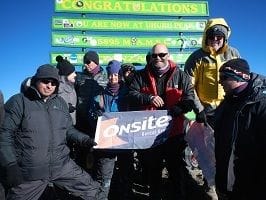 Taking on a challenge
Here at Snap Norwest we always like a challenge, and recently one of our clients presented us with a unique job. Our client, the Onsite Rental Group, sponsored Bruce Gabriel who was hiking Mt Kilimanjaro in Tanzania. The client needed to get a flag produced, so that on Bruce's arrival at the summit he was to have a photo taken with the "Onsite Rental Group flag". A straightforward job produce a flag and deliver it to Bruce in Queensland before he left. Little did we know what an epic journey we were about to embark on
The original flag produced was sent from Snap Norwest to Queensland with plenty of time to arrive for Bruce but it didn't turn up. Having no luck with the courier company to solve the problem, and not having Bruce's surname (only his address), we rang the local Repco and Super Cheap Auto stores and Newsagency by the off chance that they knew the Bruce who lived in a particular street in the area - we assumed with only 7,500 people in the town someone would know him.
No luck! After a few more calls to various local businesses we made a call to a local real estate agent. Bingo Bruce's wife worked there (but wasn't in), so finally we had a phone number. Bruce left on the morning the parcel arrived, so he didn't get it. After a few more calls, Mrs G emailed us through Bruce's schedule for the trek while there was time there was still hope (and we felt terrible that Bruce had not received the flag, especially as he was off on the adventure of a life time).
Our next plan was to have this printed in Johannesburg, South Africa and delivered to a hotel where Bruce was staying the printing was ok to be done but delivery was required to Tanzania. Unfortunately our SA contact (that's South Africa, not South Australia!) advised he could delivery it anywhere in South Africa, but there was no chance of delivery to Tanzania (or Kenya where Bruce was flying into). So after some quick research on Arusha, Tanzania (Pop Circa 1.2million) we were hopeful there would be some level of business services in the city that could get something printed for us.
Only hitch was that Bruce was arriving in Arusha on Sunday afternoon and leaving the very next morning to start his trek up Mt Kilimanjaro and it was Friday lunch time already. In a last ditch effort, we made contact with the hotel and they said that they could print it out on an A4 sheet of paper. Not quite how we had envisaged the flag to look as a finished product, but a flag none the less.
After a few more emails and phone calls to the hotel, we asked them if the Hotel had to have this completed outside by a local company (Snap Norwest would pick up the charges). We received an email back late Friday night saying that it could be done and arranged and would be waiting for Bruce on his arrival at the Hotel. Happiness prevailed at Snap Norwest! We confirmed with the hotel that Bruce received the flag, Bruce's wife also confirmed to us that had Bruce phoned her saying he had received the flag.
In an extract of the email back from the Bruce on his return, he said:
".I had a great time thanks very much. I was very surprised to be given the Onsite banner in Arusha. It did go to the top with me and did have a few Photos taken of it under the Kilimanjaro Sign. Because of the short amount of time that we were allowed to stay at the summit we had to rush our pics but have attached the ones that we managed to do reasonably well.
Your efforts to have the print available were outstanding, thanks very much."
After the initial delivery failure we wanted to exhaust every possible option, solution and idea we could think of to try and get Bruce something. Luckily it worked and our client Onsite Rental Group made it to the top.