Snap Eastwood helps local artist secure New York Exhibition
Published: 7 July 2015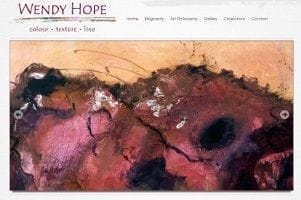 The team at Snap Eastwood proves how big of an impact the perfect website can have on your business.
Jason and the team at Snap Eastwood have delivered many websites. Local artist Wendy Hope can confirm the website Snap Eastwood produced for her provided a very good return on investment, by securing an 18-month exhibition contract with a New York Gallery!
Wendy Hope penned the following:
"I would like to convey my appreciation for a first class website you created for me. I am a local professional artist who needed to have a website designed for my art practice. I had been thinking about it for many years but the cost, and finding the right creator deterred me. Finally I approached Snap Eastwood after reading a sign they had up in their business that was advertising website design.
I now have a wonderful website created for my art practice, and have had a great number of favorable comments about this site. Consequently within a year of going live I was approached by a New York Gallery to have an Exhibition with them. They had seen my website and offered me a contract for 18 months. This Exhibition was the most exhilarating experience in my entire career.
The quality of the website is first class, and the staff at Eastwood are very helpful, co-operative and pleasant to do business with."
Great to see another happy customer. Well done Eastwood!