Snap Digital Marketing
Published: 1 June 2016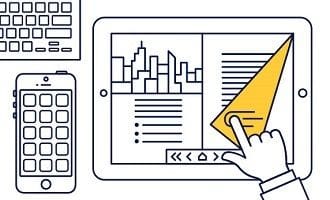 The world is rapidly shifting from analogue to digital
With people consuming more and more digital content on a daily basis it's important that your business is positioned to succeed in an increasingly digital world.
Website
The key to success for any business in the digital space is first and foremost an optimised website. Websites provide a powerful first impression for a business, and are critical in building brand relationships online anytime, anywhere.
Websites allow a business to have an active presence in their market, can generate sales outside of conventional trading hours and allow interaction with your clients and target market.
When it comes to websites, design, function and optimisation for mobile are all critical components, so it's important to talk to a Snap expert to ensure that any website needs are handled correctly.
Mobile App
With 58% of Australian consumers having downloaded a mobile app in the past year, while 78% have researched a product or service on their phone having a mobile app can provide your business with a distinct advantage over the competition.
In this digital age, two clicks are one too many. An app provides a simpler way for customers to interact with your company in a more engaging manner, which can lead to increased loyalty and increased conversions.
At Snap we understand mobile apps, and can help leverage this powerful tool into increased conversions for your business.
Email Marketing
Over half of internet users check or send an email on a typical day, so it's no wonder business emailing can be an effective online marketing tool to reach your target market.
A successful campaign will help build relationships with your clients, which leads to increased brand loyalty in the future.
By sending out targeted email campaigns, businesses can communicate directly with their customers and generate immediate responses, as well as tracking and reports on results instantly.
Snap can help you to send an email marketing campaign, whether it's an eNewsletter, high-impact promotion, invitation or online survey, we know the best way to help. Contact your local Snap Centre today.