Snap Darlinghurst turns it up for the Brides special day
Published: 12 May 2015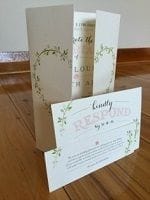 Ella Forsyth just like any bride to be, had certain hopes and expectations. She wanted the best wedding stationery available in the shortest possible timeframe.
Most premium wedding stationery suppliers were fully booked out months in advance so Ella was pleasantly surprised when she contacted Snap Darlinghurst.
Rahul and the team arranged a one on one consultation to discuss Ella's requirements for the following day. Ella was schooled in digital vs. offset printing techniques and the types of paper that were available and suitable for her special occasion. Snap Darlinghurst delighted Ella by delivering the wedding invitation set comprising of invitation cards, RSVP cards and Gift Registry cards job in 2 days, complete with gate fold finishing.
Ella sent the following email to Rahul:
"Dear Rahul,
Thank you for my gorgeous wedding invitations! I loved having the initial consultation, and choosing the various paper types with you. The fact that you had them printed, folded and delivered in a couple of days was amazing! The mini polaroid looks gorgeous and such quality printing and stock for the best - at a cheaper price and faster turnaround that other printers I spoke with.
Thanks again for all your help, I will definitely be recomminding you to my friends."
Well done Darlinghurst, one very happy customer!