Snap Community News
Published: 29 March 2012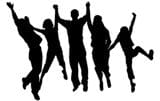 Feeling Proud
Snap are very proud of Franchise Owners and employees doing their part to support a couple of great charities.
Last week Snap Eastwood employee John Withers shaved off his locks for the World's Greatest Shave in support of the Leukaemia Foundation. Staff of Snap Eastwood gathered to witness this event. Sally from Snap Eastwood's CSR shaved John's hair off then finished the job by shaving the word 'SNAP' into the back of the haircut. Now that's commitment to Snap!
Click here to follow Snap on Facebook to see pictures of the event.
Click here for more information on the Words Greatest Shave and to donate.
John isn't the only Snapper doing his bit for a good cause. Snap Wagga Wagga's Franchise Owner Patrick Almanci and his beloved Bushnuts trekking team who recently climbed Mount Kinabalu in Borneo are preparing themselves for next year's major assault on the two highest peaks in Africa, Mount Kilamanjaro & Mount Kenya. Patrick and the team have a great purpose behind their upcoming venture and aim to raise much needed dollars for 'Little Paths', a charity that funds Education for Tanzanian and Cambodian street orphans.