Snap Caulfield South builds customer loyalty with great service
Published: 27 October 2015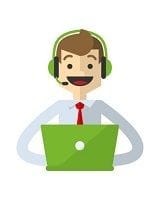 Great customer service is not only fulfilling your obligations, but helping the client beyond the scope of your position.
One of the best ways to create loyal customers is to provide excellent customer service. When a client is impressed by your commitment, results and positive attitude they also become a source for great testimonials!
Snap Caulfield South came to the rescue when they uncovered a major error with a client's third party delivery provider. The staff didn't think twice, they drove to the location (after hours no less!) to help immediately resolve the delivery issue on behalf of the client. Not only was the issue promptly resolved, but the Snap Caulfield South team also managed to get their clients a 25% rebate as compensation! The client was thrilled with this exceptional level of customer service and took the time to write the following email:
"Unfortunately, there was an incident that jeopardised our most recent direct mail campaign (at no fault of Snap's), but Snap dealt very quickly and efficiently with the problem and delivered us a better solution in the end. We were very happy with the way David approached the issue, and how he was able to not only resolve but deliver us an even greater return following on from the incident.
Snap have been very committed to serving us and we are truly appreciate of their partnership."
How will you go above and beyond for your clients?