Snap Applecross helps local business achieve accolades
Published: 15 September 2015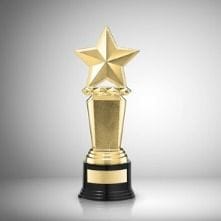 Geoff and the team at Snap Applecross are showing us how they keep their customers coming back for more.
The team at Snap Applecross provided design and print services that helped their client to the winner's podium at the ABIA Awards. The client (owner of a local spa) left a glowing recommendation singling out staff member Sam for understanding the client brief and excellence in delivery. Check out her kind words below:
"Your fantastic design work and printing gave us the cutting edge we needed to win once again. Thanks Snap Applecross!
I want to make a special mention to Sam whose creative design ability is mind blowing! It is such a breath of fresh air to work with someone who is so intuitive with her clients. I sat with Sam only once, for half an hour and Sam instantly understood and designed exactly what I was thinking. Actually, this year her design work excelled my expectations!"
It is great to see customers taking the time to write such positive recommendations!
Congratulations Geoff, Sam and the rest of the team at Snap Applecross. Your customer service is a positive reflection on Snap Applecross and the Snap brand as a whole.