SME market research: How to do it accurately on a budget
Published: 10 September 2018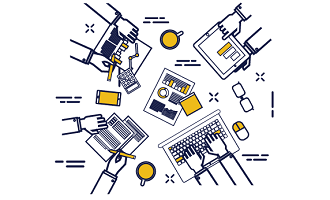 What's the one thing that determines the success of every business idea, marketing campaign and sales pitch in the world? Whether the target audience care about it or not.
If the audience just don't want what a business is selling, no amount of marketing budget, credibility or reach matters.
Just ask the people behind New Coke, Google Glass and Colgate Beef Lasagna (yes, that was a real thing).
If you read many of our articles, you'll know how often we preach the importance of learning about your customer's needs, problems and desires before you start a print, design or web project. Or, any other time you want to connect with your audience.
Without that knowledge, your decisions, messages, designs and more are all just best-guesses.
But with a clear understanding of who your audience are, and what they want most from a business like yours, you'll dramatically boost your chances of success.
And the only way to gain that understanding is through customer research.
How do you research your audience on an SME budget?
Most small business owners don't undertake proper research because they think it's going to be expensive.
The great news is, today's technology makes accurate research very affordable maybe even free.
On top of that, today you can get more accurate results than an old school professional research company would have gathered 10-20 years ago. And do it faster.
Of course, nothing is completely free. You'll need to invest some time in the research. However, the rewards and profits that you're likely to reap in return will make it all worthwhile, many times over.
Here are five steps to help you get inside the minds of, and influence, the people who are most important your business.
Define your research goal
Sit down and answer the following questions:
What do you want to know about your customers or industry?
What other key information do you want to uncover?
For example:
Is your new product, service or campaign of interest to your current audience? Or do you need to focus on one segment or a new audience altogether?
Do they believe the price you're asking is too high, too low or fair?
Do they understand what you're offering or is it too complicated?
There are so many possibilities. You need to work out what your priorities are for this research project.
Write down the questions you need answers to
Based on those goals above, brain dump a list of questions relating to your business, industry, product/service, competition, etc.
Jot down as many as possible. You never know what new angle or thought might pop-up in the process. You can always edit, tweak, add or delete questions later to create a final list.
A few ideas to get you started:
What are the demographics of our market e.g. age, location and gender?
What have you (the audience) already tried to address your pain points?
Where do you look for more information?
How satisfied or dissatisfied are you with what you've tried and why?
What do you think of our product/service?
What is the one thing we should do to make things better for you and why?
What should we stop doing and why?
What annoys you about this product/service the most?
How does or doesn't this product solve problem X for you?
What are x competitor's main strengths?
What are x competitor's main weaknesses?
Notice that most of the questions are open-ended so they can't be answered with a yes or no. This forces people to give you more detailed and helpful information.
Do qualitative and quantitative research
Qualitative research is where you talk to a small number of people in focus groups or in-depth interviews. It's a great way to gain an understanding of underlying reasons, opinions and motivations.
If you want to learn what your audience think about your website, UX is another qualitative technique.
This is where a participant screen shares or sits with an interviewer while they browse a website and share their thoughts and experiences.
Quantitative research uses data to get facts about attitudes, opinions, behaviors and more from a larger sample.
Here's another way to look at it:
Quantitative data can help you see the big picture.
Qualitative data adds the details and a human voice to your big picture survey results.
While qualitative questions should be open-ended, quantitative questions can be yes/no or multiple choice, asked through channels such as:
telephone polling.
mailed/emailed questionnaires.
online surveys.
The beauty of a quantitative questionnaire is that it can be anonymous so respondents feel comfortable discussing sensitive topics with complete honesty.
Use the information to grow your business
Gather all the data, feedback, stories and more and use it to:
identify any major trends create simple lists, tables or diagrams.
make decisions about your marketing mix and messages
better serve and communicate with your target market
There's no right or wrong approach to small business market research. The most important thing is to do something that helps you better understand your audience, market and industry.
The sooner you get started, the sooner you'll be able to launch marketing campaigns, create new business ideas and close sales.
Because you'll be 100% confident that you know what your audience is craving most, not just what you hope or think they want.