Small businesses need to 'get noticed'
Published: 12 April 2012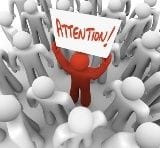 How will your business stand out?
Our guest blogger this week is David Elliott, of Snap Cockburn Central.
Snap in Cockburn Central is one of the many businesses in the area that has opened its doors in recent months. Cockburn Central is a fast-growing residential and commercial area and new enterprises are springing up at a rate of knots.
Like all Snap Centres, we offer the best in affordable design, print and marketing solutions for all businesses, be they small, medium or large.
Over the last few months I have had the pleasure of meeting many new customers and have found that the most common issue they face is their potential customers just don't know they exist.
We do know that residents and businesses out this way are keen to shop and support local businesses but don't always know the range of products and services that are close by.
It isn't good enough to just open up shop: to get business, you need to put yourself 'out there'.
Last year a Bunnings hardware store opened in a suburb near us.
They put on a huge fireworks display to celebrate. It was a very effective way of letting people in surrounding areas know they were open for business.
Of course we can't all afford to spend thousands like Bunnings can, but sometimes a small, well designed and targeted marketing campaign like a newsletter drop or local newspaper leaflet insert can be very effective too.
So if you are a new business (or even an old one needing some new ideas) talk to us about letting people know you are there you may be surprised at the response you get.