Small business website design - your ultimate guide
Published: 26 March 2018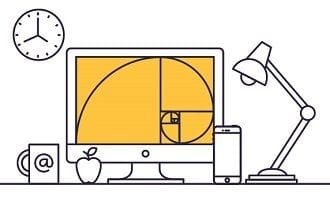 In the past few years, smart website design has become a crucial element in small business branding, lead acquisitions and sales conversions.

And not just if you do business online.

If you work at an office, out of a factory, in a streetfront store, or any blend of the above, you can't afford not to have a website that delights your hot prospects and loyal customers.
Why is a modern, well-designed website so important?
Over 70% of potential customers who are looking for a business like yours, and comparing the different options, will do so on the web before they call, visit or take any other action.

So the first impression these people have of your business will often come down to one thing - how good or bad your website looks and sounds.

And it's not just first timers. Your previous customers are making decisions based on your website too.
No matter how sparkling your service was last time, they're becoming more impatient with every day, just like the rest of us.

If your website looks dated, is frustrating to use, and is difficult to understand, they'll find another one that isn't.
SME web design advice articles from our experts
Below, we've pulled together some of the most popular website design blog articles by the Snap web design and marketing team.

Whether you're a complete novice, or a seasoned online business veteran, you'll find a world of practical advice and tips to help you:
launch your first small business website
redesign and tweak your existing site
upgrade and unleash a whole new and improved sales smashing online business
So, let's dive in...
4 small business website design tip articles
Did you know that website visitors make a first judgement about your website in less time than it takes Usain Bolt to run 1 metre? Here are some smart ways to use website design to grab and keep their attention.
Learn 10 small business website design tactics you need to perform before and while designing your site.

Find out how to create an affordable & effective business website fast even if you're not a web designer.

While every website is unique and should be designed around your audience needs, there are five web pages that every small business should include.
Get your creative juices flowing with five hot web design trends that will help your site stand out from the competition, captivate your audience and inspire prospects to take action.
4 sales-converting website design tip articles
If you're selling online through an e-commerce store, your website design has to attract and appeal to five different types of shoppers spanning from product focused buyers all the way through to bargain hunters. Never miss an opportunity by designing an e-commerce website that caters to all shopper requirements.

No doubt you've heard of search engine optimisation a.k.a SEO or getting to the top of Google.
It's crucial to success online. Learn which SEO tactics work best for SMEs today, and which ones don't work anymore (or could even get you ranked lower)
Landing pages are the key to success if you want people to take action on your website buy, join, attend an event, get in touch, etc. Get five pro copywriter tips for creating landing pages that attract, engage and convert like crazy.
And finally, even the most beautiful or handsome website in all the land won't perform to it's full potential without the right content. Learn how to ensure your words and navigation attract potential customers - and keep them.
Now for the even better news
The advice in this guide will help you create, tweak or redesign a website that grows your brand and business faster.
However, if you'd prefer to leave your small business website design to the experts, so you can get on with what you do best, contact your local Snap Centre today.