Seven business card designs to be treasured
Published: 1 February 2017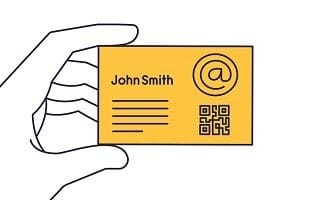 Business cards are more than "Let's keep in touch"
Most business cards handed out get thrown in the bin. Learn here seven design tips to make sure yours don't.
When we meet someone through work that we connect with, we often hand them a business card without really considering the opportunities or implications.
They are your chance to make a brilliant impression that can open all kinds of doors a meeting with a potential new client, the job of your dreams, a sought after speaking engagement, even a hot date. You just never know.
But here's a worrying stat.
88% of business cards get thrown away in less than a week
The main reasons cards get evicted include:
blandness
bad or low quality design and print
unclear messaging i.e. "I still can't work out what this person does!"
Here are seven tips to help your business card secure a VIP seat in people's wallets and business card holders, instead of their recycling bin.
1. Go distinctive with design and layout
Your business card represents you and your business, so make sure you have a design and layout that reflect your professionalism. While you need to have words on one side of the card, think about saving the other for something more visual and eye-catching.
2. Choose appropriate colour schemes
Your logo should impact your colour choices. Bright colours used well can make a business card stand out, especially if you want a fresh, exciting and original feel. However, don't discount black and white design completely. It can be memorable, striking and 'stylish' too.
3. Pick a better paper quality and thickness
Thin cards feel tacky and cheap and that can reflect on your business. Go for something over 300gsm with a nice 'feel'.
4. Use easy-to-read fonts
Be kind to people with dimming eyesight and those who don't have the time nor inclination to try and decipher your tiny or whacky font i.e. everyone. Make sure your text is nine point or larger, avoid using decorative fonts and don't try to cram information onto your card for the sake of it.
5. Do not super-size me
While it might be tempting to add some girth to your card so it makes a big impression, keep in mind that people store cards in business card holders or wallets. The standard business card size is 3.5 by 2-inch. Anything bigger will be annoying and not worth holding on to.
6. Think quality ink
Nothing's worse than being handed a business card that smudges under your fingers. Besides looking cheap, it also makes your messages illegible. Good quality inks won't run or fade away.
7. Showcase your contact information
Sounds logical, but you'd be surprised how many people focus solely on looks and forget to add the important stuff. Include your name, contact details, company information, website URL and social media profiles on your business card. Try to accentuate your name and contact information by making it slightly bigger or bolder than the rest of your information.
Like a handshake, business cards play such an important role in the impression you leave on people you meet. Follow these seven design tips and you'll never be accused of having a limp business card. Contact Snap today for your free quote.