Service business homepages - 8 must have ingredients
Published: 12 September 2018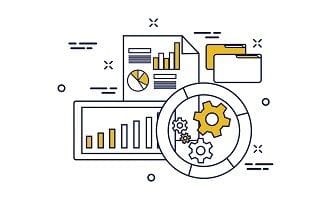 Whether you're a chiropractor, financial advisor, lawyer, consultant or any other type of service provider, it's never been more important to have a trustworthy, business building website.
Today, most potential clients will find you online (if you're easy to find). And many people you meet face-to-face are going to judge your expertise, credibility and professionalism by looking at your website.
In fact, within a few seconds of glancing at your homepage, a lot of people will decide whether or not to trust you with their business.
So how do you ensure your service business website homepage attracts rather than repels business?
Include these seven proven powerful homepage practices
Start with a clear value proposition
It goes without saying that your website needs to focus on customer problems and needs. What may not be so obvious is how quickly you need to do that.
Your homepage headline and opening lines should be a clear promise that you will solve their problem and make life better.
For example, Slater and Gordon lawyers:
To create a value proposition, ask yourself, "What is it that our clients need from us more than anything?"
Use real photos
It may not be possible to have a professional photographer shoot every image for your website. However, it's worth investing in high-quality photos of your team, your workplace, or other relevant subjects.
Service businesses are built on relationships between people. Photos of the staff that clients will deal with add credibility to your business and those people in your team.
Sprinkle trust and social proof elements
The internet makes it so quick and easy for people to compare businesses. The competition is only ever a few clicks away.
You need to assume that even if people like the sound and look of you, they will probably check out what your competitors have to say and offer on their websites too.
One of the best ways to win business online is to show that you're trustworthy. Or, more to the point, that others already trust and use you.
You can do this effectively by presenting:
testimonials
star ratings and reviews
client logos
association badges
case studies
media recognition
awards
Even if people don't read them, seeing this content on the page builds trust in our sub-conscious. Our brains tell us, "I'm not the first person to trust these guys, so they must be ok".
Highlight your most important and popular services
One thing that many companies don't do enough of is list out their most popular services on their homepage. It provides a snapshot of "what we can do for you" before people go exploring. Or leave.
So consider three boxes or sections of the homepage that highlight and talk briefly about your most lucrative services. Then link to more detailed subpages on each one.
Seduce the senses with video
Video ads sound, vision and movement to words making it a powerful sales tool. Within seconds you can introduce yourself, your service or both to the audience. They can quickly grasp who you are, what you stand for, your story and decide if they'd like to do business with you.
This can work particularly well as an ice-breaker if your service is intimidating (law, fitness) or something not many people know about or understand (alternative health, IT).
Publish, fresh educational content
There are few better ways to win over a new client than to display your expertise and generosity by sharing information that they're curious about.
With well-written, helpful blog posts (or videos) can quickly turn you into an authority on your subject matter.
Have a dedicated blog on your website, but link your latest articles to your homepage so new visitors get a glimpse of what's on offer.
It's a cost-effective way to stand out from the competition. Plus, Google loves good blogs because they're fresh ideas and content on a topic that often contain keywords people are searching for.
So, blogging is good for your search ranking as well as leads.
Highlight calls to action
Calls to action come in many flavours. Some are used to guide people down the page and through your website as they go on their customer journey.
Others are final stops where you ask your audience to take a bigger action such as contact you, fill out a form or even part with their hard-earned money.
You can't expect people to know what to do next. Plus, they're probably not as excited about your business as you are, so they need some prompting to keep going.
Some tips for CTAs include:
describe a specific action e.g. fill in the form, go in the draw
make them clickable
use contrasting colours so they stand out from the background
have them in the first screen and further down the page
create urgency e.g. call today, don't miss out, etc.
Show them how to contact you
There's nothing more frustrating than wanting to do business with a service provider or ask them a question and not being able to find contact details on the site.
Or, being asked to fill out a form and wait for a call or email back.
It's the fastest way to send website visitors running for the cyber door, never to return.
Contact details clearly displayed suggest that your business is a legitimate one.
So, ensure that visitors can find your contact information easily on the homepage. Ideally, a phone number at the top and in the footer a mailing address, email address, social profiles and phone number again.
As a service professional, your website needs to sell your skills, knowledge, experience and credibility. While much of this will be done in depth on service pages, About Us, etc, your homepage is first stop for many visitors. And the first place they make big decisions.
Adding these elements to your homepage can help exhibit your unique strengths, establish your authority and persuade clients to do business with you.
If you need help designing a high quality service business website at an affordable price, contact the experts at your local Snap Centre today.
Author:
Snap Franchising Ltd