SEO for SMEs: New tactics you must use (before your competition does)
Published: 22 March 2017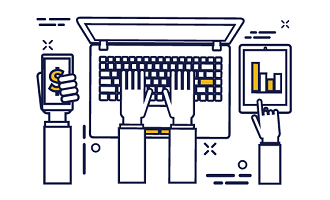 If you want customers to discover and visit your business website, it has to be easy to find on search results. For that to happen, you need Google to love and show off your website (a.k.a good SEO).
In 2017, there are new ways to rank high, and old ways that will rank you lower.
So what's good SEO mean in 2017?
Technology is getting smarter every day. That includes search engines. As a result, business owners have to keep pace with new rules and variables to get on - or stay on - the front page of results (research shows 91% of people will go no further).
Of course, when you're busy running as business, it's not easy to find time to focus on SEO too.
Chalk one up for the search ranking battlers
The things that Google and other search engines look at today are more about how helpful the content of a page and site is to the person searching and exactly what they might be looking for.
What does this mean?
It's no longer about jamming as many keywords as possible into a page.
It's no longer about creating hundreds of badly written pages just to rank.
It's no longer about who can trick the search engines.
The playing field has opened up for smaller businesses because Google wants to reward sites that provide great answers to people's search requests.
Here are a few ways to create SEO and audience friendly content that helps you climb the beanstalk to position one.
Focus on the audience needs/problems/questions
Almost every search request is plea to solve a problem or satisfy a need. Whether it's a big need (health, finance, love) or a small one (cooking tips, new music to listen to). So include:
questions in some of your headlines or subheads
helpful answers to those question in the text
step by step guides to solutions
mention of the problem to show you understand e.g. frustrated with your current job?
Of course, it all comes down to asking the questions people will type into Google. So interview your customers, look at the questions they write on emails or social pages. When you see a trend, consider that a good topic to address.
Use a blend of related keywords
Gone are the days where you could stuff your page with as many keywords as possible and watch it rise to the top. These days that will get you banished to the depths of results.
While you still want focus keyword phrase for a page:
think more about the context and person's goal
include naturally related keywords.
For example, instead of focusing on 'wedding gifts' go for a longer more focused term such as 'wedding gifts for people already living together' and include term such as bride and groom, honeymoon, romantic, etc.
There are plenty of free tools like Google Keyword Planner, Google Predictive Text and Google Keyword Tool that you can use to do keyword research.
Optimise for voice search
Another reason keyword optimisation needs to be more conversational in 2017 is because voice recognition software like Siri, Google Voice and Amazon Echo have boosted their language skills and voice search is growing rapidly.
For example, instead of searching "pizza shop Sydney," a voice search might be "Where can I find the best pepperoni pizza in Sydney," which will end with different results - unless you have some of that conversational text on your page too.
Keep your content fresh
Google loves to promote new information to the masses (if it's good) and will give you a boost when you add new blogs and other content. Whether it's each week or month, regularly update your site with the latest news, insights and information that matters to your audience. For example:
start a blog
Add case studies
Publish press releases.
Let them know you're local
Local SEO goes from strength to strength. So if local customers matter to you, be sure to add things like your contact details, address and a Google map to your site. Create some pages using keywords that relate to your suburb and surrounding suburbs.
Another reason to get focused on your local SEO. When people use mobile voice search, they are three times more likely do a local search than on Google's regular browser.
And mobile is now the first place most people go to use the internet. Which is why you should also...
Gear towards mobile
Mobile is now king when it comes to SEO as Google has announced it's taking a mobile-first approach. This means content needs to look good on mobile to rank.
It also now has rules in place that if you want to show up on search on a phone, you need amobile-responsive website. In other words, if you don't have a mobile friendly site or app, you'll be losing ranking and sales.
SEO is alive and kicking in 2017 and here are new tactics you need be on top of to get your business towards the top of the rankings. The great news is, dodgy SEO practices don't work anymore.
So if you concentrate on creating helpful content that addresses your customers' needs and problems in everyday language - and make it easy to access on phones, voice and local search requests - you'll start to boost far more than just your search ranking.