Robot recruits - how your SME can benefit from AI technology
Published: 2 March 2018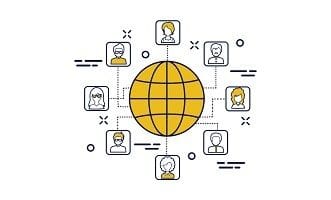 Artificial Intelligence (AI) has been a sizzling hot topic over the past year.

For many small and medium sized businesses, the idea conjures up images of HALs and Terminators moving in on their turf. It's easier to ignore the hype and hope it all turns out to be science fiction.
The fact is, AI has already arrived
The good news is that employing machines to do 'smart' tasks is no longer something only big business can afford and understand.

The even better news is that there are a growing number of ways SMEs can use AI to save time, money and sweat.

Here are five.
Adding sparkle to your customer service
No doubt you're familiar with automated chat customer service systems. They work quite well on websites, but not so much on phone calls (yes banks and telcos, we're talking to you!)

Artificial Intelligence in phone systems and website chatbots, such as Octane AI, can take much of the frustration out of these automatic interactions by:
providing specific answers to the customer query
answering queries according to the urgency
routing queries to specific people or departments.
Calling on AI for repetitive customer services like these allows you to better allocate your limited resources.

Not only can your team then focus on major customer issues, you'll reduce backlogs and gain invaluable insights into your audience, business and areas that need improvement.
Automating your online marketing
Machine learning can simplify the entire process of digital marketing.

Creating and fine-tuning content becomes quicker and easier with AI. You can use Al tools such as Quill, Yseop and IBM Watson Text to Speech to:
generate ready to create reports from data and short outlines
match the right writer with your content needs.
In social media, AI technologies offer services like automated responses, tagging video, and images.

And marketing solutions such as Acquisio use machine learning to choose the best Google Adwords strategy to reduce CPC (cost per click) and increase conversion rates.

If you use Google ads, this can end up saving you a lot of money, guesswork and analysis time.
Offering more accurate, faster forecasting
AI loves to crunch numbers. It can quickly scan data, filter out the required information and arrive at conclusions.

For instance, HANA, a popular AI tool from SAP, is highly effective in processing transaction records, mobile data and other inputs. You can use the information to predict and analyse demand.

Tools like InsightsOne and Loom Systems give you real time data to help you carry out risk management, reduce marketing budgets and improve HR processes.

Speaking of which...
Assisting with your HR
AI offers excellent insights into various human resource processes such as hiring, training and employee performance evaluation. This can be super helpful when you don't have the luxury of an HR team.

You can use the data to help you hire right people by comparing key aspects from the employee resumes, performance reports and other relevant data.

You can also measure and analyse employee productivity, run online training, do payroll and benefits administration, record performance reviews and hold employee data.

In short, AI tools mean your HR person (or you) is no longer buried under piles of information, spending time trying to compare and connect the dots.

Companies like GapJumpers and Shortlyster are bringing a whole new science to recruitment matching.
Handling credit ratings and finances
If you rely on customers paying you after you hand over goods or services, you want to be sure they're good for the money.

Apps such as Lenddo can look at up to 12000 factors - including social media usage, internet browsing history, geolocation information and Smartphone information - to gather data and credit score rate customers.

It's a tad big brotherish, but could save you a lot of money by avoiding bad debts. Plus, you'll probably be on the other end of this sort of rating system before long.

AI can also benefit other areas of finance, such as auditing, bidding and tax planning.
There's no doubt that Artificial Intelligence is going make a big impact on the way we do business, as well as the type of businesses we run and work in.

But instead of fearing it, now is the time to explore the possibilities and learn how this technology can help your business become an industry leader.

The biggest challenges that every SME faces these days are a lack of time, money and expertise to keep up with, and ahead of, the competition.

Recruiting AI to help you and your team better focus your knowledge and individual skills could be the smartest investment you ever make.