Riveting sales presentations - 5 essential ingredients
Published: 22 February 2018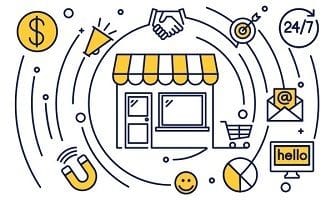 Are you struggling to get clients across the line with your sales presentations? Or maybe you're soon to give your first presentation and terrified about going down in flames?

Whether you've never stood up the front and pitched your product or service, or you've been doing it for years and want a few pointers, here are five things that every top sales person remembers when they plan, create and present to clients.
Address the problem and explain how you have the solution
International motivational public speaker and sales guru Brian Tracy once said, "Approach each customer with the idea of helping him or her to solve a problem or achieve a goal, not of selling a product or service."

Why? Because clients are not particularly interested in who you are or what you're selling unless it can help them.

So, make it clear up front that you understand that problem or need. Then make your presentation about how you have the cure and what they will mean to the audience.

People don't listen to what you have. They listen to how you can help make their lives better.
Use visuals and visual language
Creating a picture for your audience for their eyes to see or inside their heads is a powerful sales technique.

We process visuals faster than text which makes them easier and quicker to understand.

Using visual aids like screens, videos, photos and drawings can help you make a greater impact and drive your message home.

You can also paint pictures with your words by using:
more colourful synonyms (e.g. Drop plunge, crash, Get seize, wrestle away)
metaphors (e.g. tough times - "navigate treacherous waters")
relevant stories (e.g. personal, another client, etc)
The reason good stories work is because our brains start to react as if we are the ones in the story. They release chemicals that cause an emotional reaction. And that's what makes us take actions such as buying.
Ask questions
One common mistake during sales presentations is to treat it solely as a performance. It should also be seen as an exercise in getting to know the audience and their thinking as deeply as possible.

Asking questions says that you:
care about audience opinions and ideas
welcome and are not afraid of feedback
want to provide the best solution possible
are willing to be flexible in your pitch if the message could be improved or refocused.
Don't be afraid to ask questions and prod minds. Also, provide enough opportunity for conversation and discussion.
Tie together what you are selling with the ROI
Unless you can clearly demonstrate how your product/service will help the client achieve financial gains, savings or increase their ROI, it's unlikely you'll get the nod.

If a suggested upgrade costs a lot upfront, show the dollars saved over time.

For example, if you can reduce the client's energy bill, offer a rough figure they can take away e.g. $23,000 a year over 4 years.

Or state that a job can now be done in 30 minutes where it once took 90 minutes, saving time and moving resources to can productive elsewhere.
Rehearse until you know it backwards
Lack of preparation is one of the great sales presentation killers.

So even if you're an expert on the subject, it's worth doing a few practice runs through your pitch in front of a colleague who will provide honest feedback.

It will also help you familiarise yourself with content and flow of the presentation upfront. Then, come show time, you're able to focus on connecting with the audience, rather than reading your notes.

Confidence in your material puts you and your business in a credible and professional light.
Nailing your sales presentation can skyrocket your conversion rates.

Just as importantly, you'll begin to enjoy your moment in the spotlight more than ever. And your growing confidence will be another appealing quality for potential clients - as long as comes with a generous dollop of humble!

Together, it can only lead to snowballing success for you and your business.