Rise of the app
Published: 27 January 2015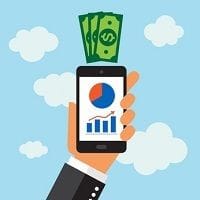 Some believe business websites are not as important as they once were.
As the number of apps downloaded worldwide each year continues to increase, are people shunning websites in favour of apps?
We don't think so. It is true that more and more people are interacting with businesses via their company apps, but an app is generally only downloaded once the customer is both familiar and comfortable with the company.
Your website, on the other hand, is still your number one tool for drumming up new business. First interactions with a company still take place via the good old website! It's the company business card and it presents an important first impression to your potential clients.
A smarter approach than pitting the website and the app against one another is to look at the two in unison and to use each form of technology to complement the other and your overall marketing strategy.
Some stats about apps
Websites still work, but mobile use worldwide continues to increase day by day. It has been predicted that worldwide, more than 100 million apps will be downloaded each day in 2015.
People now spend 86% of their mobile time engaging with apps. That means that when they're on their phones, they're much more likely to visit your business app than your business website.
What are the benefits of having an app?
First and foremost, mobile apps provide ease of access for your customers. Once downloaded, your customers can access your app as often as they like from their phone or tablet. Apps save your customers the time and hassle of remembering and searching for your web address. Many apps are even replacing the need for a wallet. Loyalty apps, and bank and payment apps allow the consumer to carry all their cards and information electronically at one time in one single device.
GPS technology also allows you to target and communicate with customers about special offers when they are in close proximity to your business through your company app.
How can your app and your website work together to reach your target market?
It is impossible to say that an app negates your need for a website. The two are like chalk and cheese. Consumers are either avid app users or website loyalists. In order to reach your full target market, you therefore need to have both a website and an app. Some people prefer viewing content on a web browser whilst others enjoy the simplicity of an app. There are also users who chop and change between the two.
It is integral to ensure your app and your website complement each other design-wise. Both need to have a consistent look and feel that accurately portray your brand image. That way, consumers interacting with your company in different ways will all receive the same message.
If you're interested in a personalised app or website for your business, contact your local Snap Centre.