Rise of customer satisfaction
Published: 31 March 2016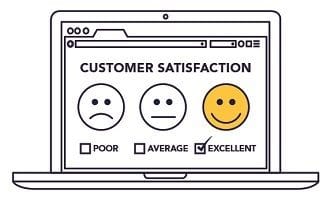 Why your business needs the NPS
Today's business environment is unquestionably competitive, where the battle for customers is fierce and unrelenting. Those that thrive are businesses that best understand and account for a critical component, customer satisfaction.
Essentially, customer satisfaction provides marketers and business owners with a metric that they can use to manage and improve their business, and has become an essential component for success in today's marketplace.
By meeting or surpassing customer expectations a business can vastly improve its chances of ensuring repeat business, and beyond that, developing customer loyalty and recommendations.
With the advent of the internet and social media platforms, customers have become increasingly empowered to voice their experiences by either praising or critiquing brands. This makes it imperative to have current and constant understanding of the opinions and feelings of your current and potential customer base.
How will it benefit me?
In an effort to identify this information and retain customers, savvy marketers utilise a range of tools such as the Net Promoter Score (NPS), which has become increasingly popular in recent years.
NPS has emerged as not only a tool used to determine customer satisfaction, but also acts as an indicator of growth, whereby if an organisation's NPS is higher than that of its competitors, then they will more than likely outperform the market.
The key to the system lies in its simplicity. Rather than ask a myriad of questions, NPS asks customers a single question: 'how likely is it that you would recommend our product/service to a friend or colleague out of 10?' The business is then given an indexed rank from -100 to +100, known as their NPS score.
Ultimately, it's a simple way to collect actionable data such as a customer's loyalty and overall satisfaction with a particular brand, and the willingness of customers to recommend a company's products or services to others.
The NPS program then gains additional power when it becomes integrated into the business as a whole. By encouraging staff in every area of the business to focus on their NPS score, business operations then become customer focused.
From there, the same customers can be evaluated over specific time periods, allowing marketers to gauge whether strategies i.e. a customer loyalty programs or relationship building, are effective.
What are you waiting for?
Ultimately, regardless of the customer satisfaction program used, it is imperative that businesses understand the important role that the customer plays in determining whether or not the business thrives or dies.
At Snap, we're all about customer satisfaction, and how you can improve yours, so contact your local Snap Centre today.