Research: Direct Mail vs Email - Which Performs Best?
Published: 23 July 2018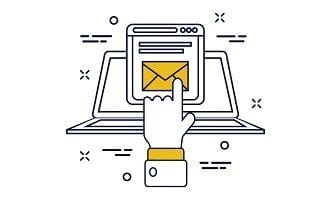 Should you send your marketing campaign out by email, or via direct mail through the post, such as a letter, package, brochure or postcard?
With email marketing up against growing inbox anxiety and overload, and direct mail response on the rise, understanding the pros and cons of each can help you develop a strategy - and get the best possible return on your campaign investment.
But first, here's what's been happening out there.
We're sinking under a sea of emails
Most people, over 70% in fact, believe they get too many emails.
Maybe it's partly due to the way they arrive on our screens as a growing wall of text and 'things to do'. Usually before we've had a morning coffee. No doubt it's also due to the:
mind-boggling 105 billion emails sent out every day
brain-exploding 38 trillion emails sent out every year
121 emails per day on average we all receive
16 spam emails, on average, that get through to inboxes every day.
While floating in a soothing bath of direct mail
Compare this to the 12 million direct mail pieces sent out, worldwide, every year. It's little wonder that marketing firm Epsilon found:
50% of Americans prefer direct mail over email
25% find it more trustworthy
60% of people enjoy checking their physical mailbox.
So, how do these two titans of marketing shape up when it comes to impact, return on investment and cost per sale or lead?
4 facts to consider
Direct mail is more memorable
Research found that 75% of people could recall brands from direct mail, while only 44% could do the same from email marketing.
Email messages have the advantage of popping up wherever we are - at work, on the way to work, while watching TV, etc.
However, this can also be its disadvantage, as customers are often in the middle of something else when they arrive. Plus, there's no more to an email than a bunch of pixels on a screen.
When we receive direct mail, there are less distractions. Maybe a few other pieces of mail, but never dozens or hundreds. Plus, we have a multiple sensory connection to print whereas there's no more to an email than a bunch of pixels on a screen.
The feel, smell and look of a freshly printed piece of direct mail evokes emotions in us. And when an experience makes up feel something, we remember it more.
This is why personalised direct mail is such an effective tool. 57% of people who receive it says they feel more valued. How many email respondents would say that about an email with their name in it?
Direct mail has higher response rates
As we know from the statistics above, email is used far more frequently than direct mail. And it makes perfect sense. Email is not just very low cost, it can be sent to market almost instantly and anyone can do it.
However, for targeted campaigns there are times when direct mail may be a better solution due to it's high response rate in comparison to emails.
Average response rates:
Direct mail 4.4%
Email 0.12%
Average customers generated:
Direct mail 34%
Email 24%
Average responders who act immediately:
Direct mail 79%
Email 45%
Email returns higher sales value per transaction
Studies showing that, on average, one dollar spent on direct mail returns $12.57 in sales. Email marketing is even more profitable, with every dollar spent returning an average of $44.
Part of the reason is the extremely low cost of producing and sending email campaigns. Direct mail is also very affordable, but costs for design, printing and mailing are higher than email.
When you look at the average response rates and how much higher they are for direct mail, it's likely total sales value would be equal to or higher than email.
This is why you need to consider your options and crunch numbers before every campaign.
An interesting statistic is that campaigns including direct mail are:
27% more likely to deliver excellent sales results
40% more likely to deliver excellent acquisition
People have different feelings about email and direct mail
In a study, 2375 people were asked to choose a word they associate with email and direct mail.
These were words with above average picks:
Direct mail:
Formal
Official
Considered
Believable
Important
Personal
Reliable
Informative
Email:
Quick
Spontaneous
Interesting
Informative
Smart
Informal
So, depending on your goals, this may impact the route you take.
Email and direct mail may be the most lucrative answer
The reason each of these marketing products are used so frequently is because they both offer exceptional and unique benefits. And both are proven to reap returns.
There are going to be times when one or the other is the only viable option, depending on your target audience, goals, available time, resources and budget.
Something to always consider - research shows using a blend of email and direct mail marketing is almost always the most effective strategy.
A Royal Mail consumer study in the UK found that:
51% preferred a combination of email and mail from companies
65% like to browse through catalogues and online before making a decision
they spend 25% more when exposed to both email and direct mail.
If you have a campaign coming up and need some help with email design, direct mail design and print or which one is the best fit, talk to the experts at your local Snap Centre.