Rebranding - in a nutshell
Published: 13 July 2011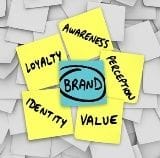 Is it fime for a refresh?
Snap has been around for a while in fact the company is more than 100 years old and the Snap name about 30 years old.
Just like we don't wear what we did in the early 1980s (or we shouldn't!) brands also need an update from time to time. The Snap brand did, so we went through a rebranding process for all of our 149 centres over the last few years.
This is a very brief outline of what we learned if your brand is looking a bit dated, it might help you too.
Brand is more than just a logo
Our brand is how we want to be viewed by our customers and the community as a whole.
At Snap, we wanted to be seen as professional, high quality but affordable, part of the local community, fun, proudly Australian and importantly no longer just a printing company.
We developed a new tagline "we do more" to reflect that we do more than printing and that started to appear on our marketing material alongside our logo.
Think about your business how do you want to be seen? Budget and fast? Prestigious? Fun? Respectful?
Then look at your brand visually, speak to your customers or even employees. How are you viewed by customers? What does your logo and corporate imagery say about you? Does it match? What about your shopfront? Your pricing policy?
But don't discount your logo
While our image needed an update, we knew our logo (the blue disc with Snap in yellow and printing in white) was well known. It was also quite modern looking.
So our logo change was very small. We removed the word 'printing' from our logo and wherever our name appeared. We became Snap. Because Snap is no longer just a printing company. We do more.
We also updated our imagery with some colourful, modern elements (the square boxes you see on this page) to demonstrate our new services.
Make everything consistent
To really have an impact, we slowly introduced our new imagery into our centres, our shopfronts, cars, stationery, website.
This way, the colourful squares have become as much a part of Snap's brand as the blue logo.
No matter if you go into a Snap centre in central Sydney or regional Queensland it should have a consistent look. This reinforces that you will get the same, professional service no matter what Snap centre you go to.
Making your look consistent from business cards to your website is easy to achieve. A good designer will be able to give you advice if you want to speak to a Snap designer, just pop in to your local centre.
Make sure YOU fit the image
Finally, do not discount the role you play in creating your brand.
If you want to be seen as fun, but you (or your employees) are grumpy or rude, your logo and corporate image will be worthless.