Raising money for charity is a Snap!
Published: 5 July 2013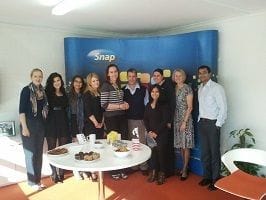 Snap in the community
Many of the Centres in the Snap network devote time to raising much needed funds and awareness of their favourite charitable causes. Not only is it a good opportunity to help others, we find its also a chance to catch up with clients in an informal environment.
Snap Sumner Park was just one of our Centres who recently held a Biggest Morning Tea for the Cancer Council. Not only was this a chance to raise money (approximately $250), it was also a farewell to outgoing Owners Doug Williams and Debbie Jackson (who are still Owners of Snap Ipswich), and a welcome for new Franchise Owners Muhib Sheikh and Alizah Hannan. They entertained the crew from one of their major clients (Computer Merchants).
A highlight of the day was a special treat prepared by Debbie. The Brandy Snaps were an experience full of butter and sugar, and VERY sweet. Everyone bravely tried a piece, but let's just say that a little went a LONG way!