Printed postcards: 5 simple ways to turn Postman Pat into Profit-Pulling Pat
Published: 29 October 2018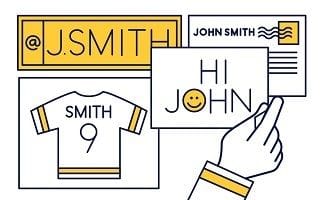 It's no secret that direct mail is the king of response marketing. Even email kowtows to direct mail's powers of persuasion.
Saying that, those enjoying the biggest returns from direct mail have been keeping one tactic close to their chest for a while now. The pulling power of printed postcards.
Due to their origin, people naturally associate postcards with good things and feelings - word from a travelling friend, an invitation.
That's why almost every time the postie slips a postcard into our letterboxes we stop, take a good look, and read what it's about.
Postcards are a smart marketing tool because they:
don't have to be opened
can be designed to capture attention better than an envelope
are cheaper than letters
enjoy high response rates, especially if personalised.
How can you harness all the benefits of printed postcards (and the hard work of Postman Pat) to grow your business? Scroll this way
How to use printed postcards in your marketing mix
Postcards can be used to tell your prospects and customers almost anything imaginable.
Here are seven of our favourite postcard marketing strategies that have helped savvy Snap customers build relationships, leads and sales.
Discounts and special offer postcards
Want to make prospects curious, or remind existing customers why they did business with to you in the first place? Send them a postcard promoting your latest sale or special offers.
Attach some exclusivity by including a coupon they need to bring in, or a promo code.
And always include the offer or sale end date to build urgency and fear of missing out.
Event reminder postcards
Reminding people about upcoming appointments, special occasions, or VIP events via email, text and social media is a dime-a-dozen, impersonal approach to customer relationships.
Using a vibrantly-designed, personally-messaged postcard that people can feel and see is a simple and personal way to surprise and delight.
Plus, your card will sit in their home or office promoting your brand and reminding them not only about the event, but how much you value them.
Loyalty program postcards
An easy way to boost your sales and brand image is to offer customers a loyalty program. Showing that you appreciate their return business says community and loyalty are as important to you as making money.
Loyalty-related postcards with exclusive discounts, offers, event invitations, etc, capture attention in a busy day.
They also prove that your loyalty program isn't another all-talk-no-action ploy. You really do give people tangible rewards.
Greetings and celebrations postcards
Be it a birthday, public holiday or special day at your business, saying "Hello!", "Enjoy!" or "Congratulations!" on a printed postcard is great way to turn greetings and celebrations into leads and sales.
Special occasions give you a reason to contact people. Any attached promotion feels less like a sales pitch and more like a gift from a friend.
Always include some kind of incentive to call, get online or drop in to your business. Especially for birthdays where your offer feels like it's for the birthday girl or boy alone.
With Christmas headed our way, greeting postcards are a promotional tool to think about now.
Thank You Cards
Research shows that when someone thanks us, we bond with that person.
Sending thank you cards to people who are important to your business says:
you appreciated their time, effort and business
your business is different.
Thank you cards are most effective when they're personalised with a tailored personal message in print or handwriting. It can also make a big impression if you get key people in your business to sign the cards.
It's also an opportunity to include some subtle branding such as your business name and logo - or a fun or interesting design on the front.
People love postcards. When you use them in your direct marketing, you're giving your message a headstart. A better opportunity to get noticed and read.
So, think carefully about which of these five tactics could be an opportunity for your business.
Of course, every postcard needs help to keep people interested and excited. That means creative design and appealing printing.
If you'd like some help and advice in these areas, talk to the printed postcard experts at your local Snap Centre.
Author:
Snap Franchising Ltd