Poster Printing - why posters woo hearts, minds and sales
Published: 23 April 2018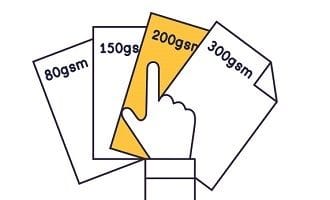 It may be the age of technology, but one thing never changes. People love posters.
They celebrate heroes we idolise, causes we support, experiences we want to be part of and moments we wish we had. They're larger than life, stop us in our tracks and take us somewhere else.
And that's the reason poster printing also works incredibly well as a marketing strategy.
Here's how well designed and printed posters can greatly influence your customer's emotions, thoughts and actions.
Visually powerful posters impact our feelings
Emotions play an important role in business.
Customers are far more likely to want to buy from a business that can move them emotionally be it joy, confidence, sadness, calm or anger.
One of the great strengths of poster printing is in the eye-catching visual elements, such as:
how lines create different moods.
And then there are the images. In addition to the power of colour, images contain subjects that can instantly sway how someone feels.
Pictures of people, animals, inspirational or nostalgic themes, etc can really pull at heartstrings.
And as we know, a picture tells a thousand words, so you can build emotional stories with a few words and strong image elements, such as facial expressions.
Smart posters get us thinking
You've probably heard that humans process visuals faster than words. Some studies say up to 60,000 times faster.
Even if it's a 10th of that mindboggling number, part of the reason posters work is because 60% of our brains are involved in thinking about things we see (Prof. GA Orban 'Comparative mapping of higher visual areas in monkeys and humans'.)
You can stimulate the brain through posters in many ways, such as:
adding colours to boost recall of technical information by up to 82% e.g. safety notices and warnings
blending text with visuals keep the brain entertained, intrigued and captivated.
keeping things simple to avoid confusion or frustration e.g. few elements, plenty of blank space, one focal point, etc.
The best printed posters win business too
Most sales come when you are able to capture a customer's attention and feel something, then satisfy their need for facts. In fact, Stamford University found that:
strong visual content boosts credibility and trust in a business
when people feel something about a piece of marketing they more likely to take action to enhance or fix their feeling.
As we now know, well designed posters can achieve these 'heart' and 'mind' goals in just seconds - on a street, in a shop, at an event and dozens of other places.
At this stage, people are interested in what you have.
To seal the deal, you need to make important calls to action and details highly engaging and easy to find e.g. phone number, address, website, email, date or price.
Poster printing is one of the most captivating, persuasive and cost-effective ways to reach, connect with and convert customers. Whether they're local prospects, event attendees or fans of your project.
If you'd like some professional advice and help with poster printing, call or visit your local Snap Centre graphic design and printing expert.
Author:
Snap Franchising Ltd