Pinterest for business
Published: 12 February 2013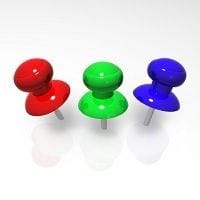 Pinterest is one of the more recent social media networking sites.
It is essentially a collection of virtual pinboards where you can pin theme-based content and images to keep for yourself and share with others.
How does it work?
On Pinterest, you can virtually pin anything image-based. From photos to videos, graphs, cartoons and even sketches of products, if it can be represented as an image then it belongs on Pinterest. When it comes to sourcing images, you can find them on the web, upload a file from your computer or take a photo on your phone to pin on your account. You can also browse other Pinterest users' pinboards for inspiration and "re-pin" anything that catches your eye to your own pinboard.
Ways to interact
Pinterest encourages users to interact in numerous ways. You can:
"Follow" other Pinterest boards or users.
"Re-pin" content you find pinned by other users.
"Like" other users' posts, pinboards and content.
"Mention" other users in comments.
"Pin" brand new images and content you've sourced or created.
How can it help my business?
As Pinterest's popularity has increased, they adapted the platform to become more business-friendly. Statistics have shown that Pinterest is one of the most successful social media sites for converting visitors into clients. All it takes is a dedicated approach and a bit of creativity to realise how your business can use Pinterest to its advantage. Could you use it to show off new products? Could you regularly use graphs, images, photos and other pictorial media to communicate with audiences? Does your target audience enjoy visual-based approaches?
How to join Pinterest
To get started, head to the Pinterest business
homepage
. You an either convert an existing account from personal to business, or create a brand new business account from scratch. It's as easy as filling in your email address, business name, describing your business for the 'about' section and selecting a username. Adding a profile photo is optional, but comes recommended. Follow the prompts to get started and set up your first pinboard. Then just play around with it to get to know the platform, develop a strategy and have some fun!
Contact Snap today to find out how we can help with your online solutions, from websites to social media and videos.