Picking your professional palette: Logo colours
Published: 3 June 2014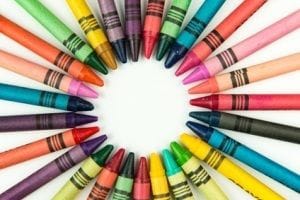 Choosing the colours for your company logo isn't simply which shades you like best.
Learn how to perfect your professional palette with some insider advice.
Creating brand recognition
Creating a logo that's instantly recognisable is the best way to help your brand stand out from the crowd. Simplicity, a limited colour palette and legible fonts are a large part of the battle. You need a logo that accurately sums up your company's story and standards and you'll only be able to do that if you choose the right colours for the job.
The psychology of colour
The colours we see generate a particular emotional response. For example, blue tends to be a calming, confident and trustworthy colour while red is better known for inciting passion and intense feelings. To pick the right colours for your logo, you need to think about the kind of emotions your brand should be associated with and choose the shades that match it.
Colour associations
Red: Energetic, exciting, youthful, passionate.
Blue: Calm, dependable, strong, trustworthy.
Yellow: Optimism, joy, clarity, warmth.
Green: Peaceful, healthy, growing, hopeful.
Purple: Glamorous, powerful, romantic, nostalgic.
Orange: Creative, enthusiastic, stimulating, determined.
Black: Serious, luxurious, formal, bold.
Pink: Warm, sweet, friendly, nurturing.
Colour choice and common sense
It's also essential that your colour choice is appropriate for your design. Yellow might sum up the fresh, optimistic attitude you want your clients to feel, but colouring your text yellow and putting it on a white background is likely to make your logo very difficult to read. Don't let your colour choice overrule common sense when it comes to logo design.
For help with everything from logo design to excellent print and eMarketing campaigns, contact your local Snap Centre.