Personalised printing is trending
Published: 8 February 2017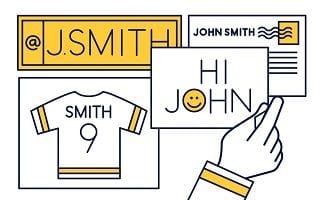 Personalised printing Why SMEs should follow Coke's recipe for success
In 2012, Coca-Cola printed bottles and cans with 150 of the most popular names in Australia. That summer, 250 million of these named products were sold - in a country of less than 23 million people.
The campaign has now reached 70 countries and has become one of their most successful marketing campaigns. Why did it work so well everywhere in the world?
They made business personal.
Personalisation doesn't mean you need a Coke-sized budget or audience
You don't need to be a big brand and deep pockets to boost your sales and build your relationship with your customers. Small scale personalised printing adds value to your brand products and marketing campaigns, and differentiates you from your competitors.
It's simple to put in place, and can be incredibly effective.
People like it when you make a product or service all about them
One-size-fits-all used to sound like good thing. But to today's demanding consumer, it's becoming obsolete and unappealing.
Research shows that more than 50% of customers expressed interest in purchasing personalised products.
In other words, while it's important to be up on the latest trends and be seen using (or wearing) fashionable items, it's also important to feel special and have something different, a talking point.
If a business can provide their customers with something others like, envy ad can't ever have (at least not exactly the same), it's a great way to build loyalty and sales.
Personalised printing on the rise worldwide
All around the world there's a growing demand for personalised products whether it's customisable fashion such as watches, clothes and handbags, or items for business and personal means such as cards, calendars, direct marketing campaigns and other merchandise.
The overall market for personalised printed products in the U.S. alone is estimated to grow from around 113 million units in 2012 to nearly 158 million units this year that's almost a 40% increase in just 5 years.
Personalised gifts have also become an increasingly prominent feature during the festive season. As brands increasingly look to understand individual consumer needs, consumers will soon be enjoying products that increasingly reflect their own individual tastes.
Here at Snap, we've seen enormous growth in personalised printing over the past few years.
The benefits of using personalised printing
With a growing need amongst people and businesses to feel as though they're 'not just another number', personalisation is becoming a crucial element in the success of digital marketing campaigns.
We've tested a lot of campaigns to see whether personalising really does make a difference to the results. Some of the benefits have included:
attracting more customer's attention, and holding it for longer
increased conversions
building stronger relationships with potential and existing customers
more repeat purchases
delivering greater profits through better ROI
Sending or giving your customers the option to buy - personalised products is a powerful and cost-effective way to increase sales, profits and customer loyalty.
Need some help with personalised product ideas and campaigns for calendars, cards, direct mail or other merchandise have a chat with your local Snap marketing and printing expert.