Personalisation for marketing
Published: 10 September 2013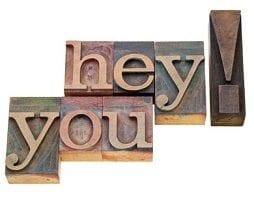 Personalisation verses one-size-fits-all
Over the past year, the term 'personalisation' has become commonplace among marketers and, with it, the potential to rework the one-size-fits-all approach has become a reality. So what exactly is personalisation and what are the best mediums to apply personalisation to?
What is personalisation?
Very generally, personalisation allows you to tailor your marketing to an individual's characteristics or preferences. The beauty of personalisation is that it can be as simple or complex as you like. At a minimum, you are likely to have your client's name and/or contact details as well as their purchase history. These two things alone can help form the basis of a successful one-to-one marketing campaign.
On a more high-tech, complex level, websites can use cookies and user profiling to gather information on location, search habits, spending habits, preferences and more to create a fully personalised user experience on their site.
Mediums for personalisation
There are plenty of ways you can incorporate personalisation into your business marketing plan, including:
eNewsletters
When asking your users to sign up to your newsletter, it's a good idea to get a little more information than just their name and email address. Even the addition of a postcode will allow you to send your clients location-based deals.
Homepages
A great example of homepage personalisation can be seen on Amazon. The eCommerce giant uses cookies to gather information about their visitors and subsequently delivers a homepage with a personalised greeting and suggested products for return shoppers.
Postcards
If you have your client's date of birth on file, it's easy to send them a greeting and special offer to celebrate. This is a great way to establish goodwill with your clients.
Contact your local Snap Centre to see how we can help your business implement personalisation in your marketing.