Outsource your design & print needs to improve your business
Published: 23 October 2012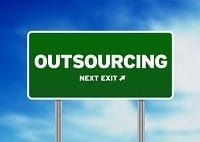 It's a common misconception that outsourcing is costlier and more time-consuming.
The reality can in fact be the opposite.
When you outsource your print and design requirements, you don't have to set up permanent desks or rely on one individual to manage all your requirements. By outsourcing, you can count on a team of experienced professionals who are dedicated to your projects and have the specialty skills to turn them around in rapid time.
Benefit from broad experience
By outsourcing, you'll benefit from a team with a rich variety of skills and capabilities who work across a broad range of projects for different clients. This could result in better solutions being brought to the table that an in-house team might not have the experience to offer.
Access to technology
Design and print specialists are more likely to be able to update their equipment on a regular basis. After all, it's their business to ensure their products are as advanced as they can be. Meanwhile, an in-house team might be fighting for budget over different departments.
Cost-saving
It might come as a surprise, but the cost of outsourcing ad hoc or ongoing projects to a professional design and print house will be far lower than the cost of setting up a permanent department. Consider the equipment, desk space, annual salaries and administrative costs. With an outsourced team, these hidden costs disappear.
Contact Snap on how your business could benefit from outsourcing its print, design and website requirements.