Nine essential digital tools for business
Published: 14 May 2013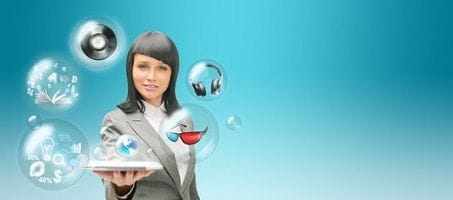 Take to the clouds
Cloud-based business tools are growing daily and opening up some truly groundbreaking services for small business. Re-consider your post-it notes and filing cabinets, and instead embrace the following free, must-try digital business tools.
Dropbox
This online data storage tool enables users to save up to 2GB of data to a personal Dropbox account. The best part is your data is saved to your online account, so you can access files anytime, anywhere. This is pure, streamlined accessibility no memory stick required.
Evernote
Now you can keep notes, voice memos, images, articles and more in the one place across all devices with this very sweet, note-taking platform. See an article, image or video you like online? Clip it, save it, and you'll never forget a thing with Evernote.
FreshBooks
There's finally a way to simplify your bookkeeping and stop paying too much for accounting software. FreshBooks lets you document expenses, track time, and invoice clients. You can try it for free for 30 days, after which there is a nominal monthly fee.
LinkedIn
This social networking site for professionals has over 200 million users in over 200 countries, and is the perfect environment for leveraging your brand and making solid business connections. Promote your brand and watch your business relationships take off.
WordPress
A blog can be a great way to extend your brand online. WordPress is an easy-to-use publishing platform that allows you to create and customise your own blog, as well as easily integrate it into your business website.
Skype
Skip the sky-high phone bills and start using Skype to communicate with your clients and suppliers. With nearly 30 million users worldwide, Skype lets you communicate Skype-to-Skype for free, or Skype to landline or mobile (for much cheaper than a regular phone call).
LastPass.com
Passwords and our inability to keep track of them, have become the bugbear of the digital age. LastPass solves this by offering a free password management service, making browsing online quicker, easier and more secure.
Google Docs
This web-based office suite helps businesses make the paperless office a reality. Employees can create and store spreadsheets and documents online, as well as collectively contribute to the same document, regardless of location.
Google Analytics
Also from Google, Google Analytics does a great job of measuring the digital environment. You can track and measure all of your online activities, drilling down to valuable data such as site visits; referrals; clickthroughs; bounce rates; time spent on your site; and so much more. Another big advantage is you can use Google Analytics together with AdWords and AdSense to optimise campaigns.
Talk to Snap today about how your business can benefit from our extensive website and marketing services.