New Study: Australian SME's not meeting customers online needs
Published: 2 April 2018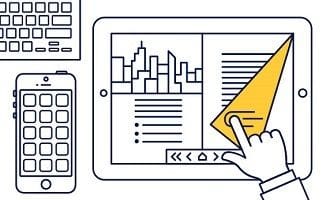 Are word-of-mouth recommendations still the best advertising a small business can get? Not according to a recent Telstra survey of SME consumers.
Plus, many businesses are losing customers and sales to competition because they're not taking simple steps to move with the times.
In November 2017, The Telstra Small Business Intelligence Report released information based on surveys of more than 1000 SMEs and over 1000 consumers.
The results highlighted the growing gap in views between business owners and their target audiences, who are moving online in droves.
SEO before WOMO
When it comes to choosing a business, first-hand recommendations (and disgruntled warnings) from previous customers are still very important.
However, the research found that businesses overestimated word-of-mouth referrals, and underestimated the growing importance of e-recommendations in the form of:
suggestions from Google (search results)
online reviews of strangers.
Specifically:
83% of customers say Google is 'important' or 'very important' when finding a business
47% under 40yo find or research small businesses on Google at least once a day
62% of customers won't even consider a business if it's not listed online
And:
SMEs felt a word-of-mouth referral was the number 1 influence on customers
customers rated WOMO (3) behind online search (1) and online reviews (2)
This shows just how important it is now for every business to:
have a professional looking website that works well on every device
search engine optimise (SEO) their website so it can be found for important keyword search requests on Google
encourage happy customers to leave reviews online.
Many small businesses are being left behind
The big issue highlighted in the report was that many traditional businesses said they didn't understand technology or where to start:
Only 50% surveyed have a website
Only 26% are use SEO tactics
52% said they have no intention of using SEO
Their main reasons? Perceptions of the cost, time, effort and resource required.
So, what can you do to capture online customers?
The online world can be overwhelming for any business owner, especially if you don't have much experience or knowledge.
And while there are many ways to market your business online, the greatest benefits and returns are likely to come from addressing areas highlighted in the report.
You don't know need technical knowledge to put them in place. They can be done for you affordably, professionally and quickly.
Create or update your business website asap
1. Choose a smart, eye-catching design
Visual appeal through images, colour, space, layout
Easy to wander through, find information and act
2. Get a responsive design
Looks perfect on mobile phones and computers
Include click-to-call, click-to-map and other features
3. Have the ability to do your own updates
A CMS that allows you to update your website
Make changes without coding or design knowledge
4. Create pages that help your audience
Easy to read, short paragraphs and bullets
Avoid jargon and use plain English
5. Be Google-friendly (SEO)
Easy to read, short paragraphs and bullets
Avoid jargon and use plain English
Learn more about SEO tips for SMEs here
6. Announce your site to the world
Business cards and letterheads
Everywhere else your customers might see it
Have customers to leave reviews online
When people want to find out about a business, they'll often type in 'review of (business name)". And if they don't know a specific business, 'reviews of (business type)' e.g. 'reviews of plumbers inner west sydney'.
To come appear in the search results, you need to be on review sites and places people are looking online.
1. Create profiles on several review sites
Review sites are places online that people go to leave an find reviews on businesses from past clients. Start with Yelp, Facebook and Google My Business.
2. Ask people to leave reviews
If you ask, you are more likely to receive. Just something like. "Hi (name) we are trying to improve our Facebook/Google/Yelp page. We'd really appreciate if you would leave a quick review."
And promote your review pages everywhere emails, in your store, on your website.
3. Approach the best people to leave reviews
Prospects want to know more than just 'Great business'. They want to hear enthusiasm and details. So get in touch with people who will have more to say such as:
regular customers
different people each month
the person you helped solve a big problem
well known or well-connected customers
4. Respond to feedback
Whether it's a positive or negative review, you should respond to every comment. Happy people appreciate the thanks, and those who are not so happy will appreciate that you care. So, will people that are reading the reviews.
Further to this, don't worry if every comment isn't positive. Research shows that new customers put more trust in reviews when some of them are not glowing. Everyone knows that you can't please all the people all the time.
If a business has all 5-star rating, most people think they are fake reviews.
Get a professional website at the price you can afford
Whether you're ready for your first website or your old site needs an update - your local web design and marketing team at Snap can take care of everything for you.
Get in touch today for friendly, expert advice and a competitive quote.