More time for dancing
Published: 17 May 2012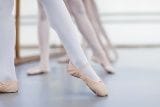 Streamline my business
A chance visit to her regular Snap Centre in Applecross, Western Australia, has made life easier for dance studio proprietor, Melissa Sgro.
Drowning under the weight of paperwork associated with running the studio Dance Fusion, Melissa was looking for relief.
"I saw the advertising about website creation while I was getting some printing done at the Centre. I spoke to the manager, Tenille and she assured me that they could design something that would streamline my studio bookings as well as look bright and appealing."
"I love the new website. It's so easy for parents to use and online enrolments through the site have been great.
"Snap totally understood from the start that my goal was to streamline the nerve-ending paperwork associated with running a dance school."
Now I can get on with teaching dance rather than spending hours on the phone and coordinating bookings.
Snap Applecross Manager Tenille Lapham said that since she had completed a website marketing course last April she had helped a steady stream of business owners achieve greater efficiencies through new websites with new and custom-designed functionality.
"We find that most of our website clients are either regular users of our Centre or new clients starting a business where we have done a whole package including brand identity, print and website for them. They usually spot our in-store marketing materials for our website services or see our exterior signage or receive our monthly e-newsletter."
"We currently have more than seven websites which are already "live" with more in the pipeline.
"I really enjoy the website process. Seeing my clients' businesses come to life is really exciting especially when you can see the results as with Melissa's website - all of our websites come with Google analytics, but the traffic to Melissa's dance website literally skyrocketed within only a couple of days "
http://www.dancefusion.com.au/