Mobile marketing for your business
Published: 27 May 2014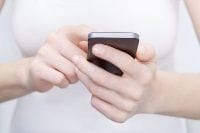 Dip your toes into mobile marketing with these five easy-to-execute tactics.
Nine out of 10 Australians have a mobile phone, and with over 80 per cent of those being smartphones, there's no doubt that dodging mobile in marketing means missing out on a huge chunk of potential business.
1. SMS
SMS marketing is unique in that it grants you access to the portion of mobile users who do not have a smartphone. In addition, SMS experiences a very high open rate compared to the more prevalent and long-format eMail.
Tip: Choose a straightforward offer with minimal conditions, make sure to have a CTA (visiting a website or making a call), and use sparingly.
2. SEO
Mobile search results do differ to web search results. To make rank, ensure your site is mobile optimised with short load times and a low instance of 404 errors.
Tip: Read Google's guidelines for building a smartphone-optimised website to learn straight from the horse's mouth.
3. eMails on mobile
These days, a very high percentage of eMails are opened on mobile, so it's crucial to have a template that is mobile friendly and includes plenty of clicks to a mobile-optimised website or app.
Tip: The three golden rules of mobile-friendly templates are single-column layouts, alt tags for images and touch-friendly links.
4. Localised ad buys
Localised ad buys for mobile are a perfect fit if your potential sale is out and about looking for your business, they're searching on their mobile and they want answers straight away.
Tip: To start, focus on local keywords in Google ad buys, look at advertising on services like Yelp and Foursquare, and geotarget your sponsored Facebook posts.
5. QR codes
Inexpensive and simple to execute, QR codes are a fantastic way to maximise your traditional marketing tactics by showing people you are mobile, and encouraging better, more memorable engagement.
Tip: Have a single goal for your QR code campaign mixed messages do not work here!
Contact your local Snap Centre to discover options for your mobile marketing campaign.