Marketing, sales and PR - how they differ and why they're all important
Published: 26 April 2017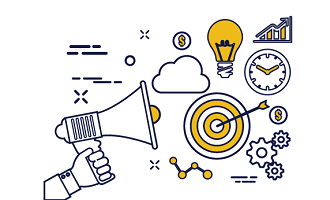 We all know people who work in "sales", "marketing", and "PR". But we don't all really know what the difference is. Come to think of it, is there a difference?
While they work happily in tandem, yes, each is a unique beast requiring different skills.
Here's your Snap-shot guide to how these curious creature help businesses get known, grow and put out fires - so you can do more than smile and nod next time you meet one.
What is marketing?
Marketing includes research (to understand audience needs), creating awareness about products and services the help those customers, and making them available when they need them.
Why is marketing important?
Without marketing, your business may offer the best products or services in your industry, but none of your potential customers would know about them.
Different marketing strategies you could try:
Printing and distributing brochures or flyers
Posters, banners, signs
Planning and running advertising or promotional campaigns for your products/services
Creating an eye-catching website to promote your products/services and convert into sales
Optimising your website for Google search
Running email campaigns
Word-of-mouth/viral marketing
What is sales?
Sales re the activities a business performs to convert the leads or prospects (often created by marketing) into purchases and orders.
Why is sales important?
Sales generates revenue so it's important to have the right pitch, copy, discount, guarantee or other tactic to encourage people to make the purchase.
A few sales strategies you could try:
Cold calling
Direct mailing
Door to door sales
Targeting referral audience
Website landing page
What is PR?
PR, or public relations, is communicating with your target audience directly or indirectly through media to create and maintain a positive image, and strong relationship with the audience.
Why is PR important?
PR enhances the awareness about your company's name and the brand
Creates a positive image (or turn a negative one around)
It can build (or rebuild) credibility for your brand
It can improve relationships with your customers
Reach your target market
A few PR strategies you could try:
Creating and distributing positive press releases about your brand
Publishing your brand story as an exclusive feature in publications
Shedding light on anything negative about your brand
Inviting the media and your customers to special events
Networking or attending conferences and trade shows
Using technology like blogging or video campaigns to reach a wider audience
Three's a perfect crowd
That friend you have in marketing, sales or PR will probably tell you that they're the most valuable player in the business success game. And who can blame them that's what they do for a living, right?
The truth is, having them all on your team working together, is the smartest and most effective way to create a great business environment that is healthy, popular and profitable. Talk to Snap to find out more on building the perfect marketing, sales and PR trinity.