Making better use of Pinterest
Published: 16 January 2014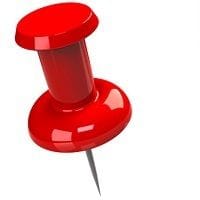 Pinterest for your business
Pinterest's prominence in the social media landscape continues to grow. Over in America it has become so popular that Target US created a Pinterest-powered eCommerce site for Christmas 2013. It was called the 'Awesome Shop' and listed only the top-pinned items for sale.
With the image-based social site set for bigger and better things in 2014 (including an ad platform), here are some ways to make better use of it and get ahead of the pinning pack.
Creative boards
While a 'best sellers' board is a great idea, the brands that really get noticed on Pinterest are those that are a little more creative with their boards and offer followers something they'll want to repin. For example, GE have a board titled 'That's Genuis' which features quotes from Thomas Edison, the founder of GE.
Guest pinners
Martha Stewart Living has a huge 131 boards and is constantly growing. A big part of their strategy is featuring guest pinners from other blogs and brands who share their personal picks on boards. If relevant, try this with featured clients or bloggers in your industry.
Rich Pins
Recently Pinterest has rolled out some new features that allow you to share more information on your pin. These 'Rich Pins' include: Place Pins (including a map, address and phone number); Article Pins (sharing a headline, author and story description); Product Pins (with pricing and availability); Recipe Pins (sharing ingredients and cooking times); and Movie Pins (ratings and reviews). Get rich to share more with your followers.
Use analytics
Accessible when you log in to Pinterest, analytics store a wealth of largely underutilised knowledge that can help you make better use of your page. Look out for 'most repinned' and 'most clicked' to discover what types of pins are working for your business and check out the site metrics tab for a review of the pins created from your website's content this will help you discover which pins are generating traffic.
Contact your local Snap Centre for help marketing your business.