Make marketing easy with these seven simple templates
Published: 5 March 2015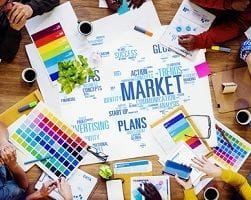 Small business owners have limitless dreams of growth, but can often have constrained time and resources.
Therefore, tapping into free marketing templates - for everything from planning through to production - can be the best first step in producing successful campaigns. We've compiled seven of the most useful templates to help turn your dreams into plans, and your plans into reality.
1. Blog editorial calendar
Map out your editorial calendar by creating a simple, shareable spreadsheet in Google Drive. Don't make this more complicated than it needs to be. Spreadsheets can be set up with dates and category pillars, then you can fill them with topics and see where you have gaps in your schedule.

Tip: Create a separate tab for each week or month to make everything clear, concise and less intimidating.
2. 'Project Management - Marketing' example spreadsheet
Whether you're planning a major or minor campaign, the 'Project Management Marketing' template available through the Google Docs Template Gallery offers a clear and concise view of who is responsible for which task, the status of each project and due dates.

Tip: Use the share function to keep everyone in the loop.
3. Marketing budget plan
This marketing budget plan is clear enough for a beginner to complete, and detailed enough to keep you going beyond the first steps.

Tip: Rather than thinking of your budget as a means of penny pinching, think of it as a means of discovering opportunities for spend that you may otherwise have missed.
4. Social media content calendar
Many small businesses already use Hootsuite to schedule their social activity, however too few are taking the time to complete the simple social media content calendar that is available through the service.

Tip: Leave a little room for spur-of-the-moment activity and timely news that is trending.
5. Monthly marketing report
Reporting is tedious, but it's absolutely necessary to assess what to keep doing and what to ditch as you move forward and plan your next campaign. HubSpot's Monthly Marketing Reporting Template will keep you on track each month.
Tip: Use the integrated PowerPoint deck to visualise progress.
6. Photo catalogue template
If you want to lay out a simple photo catalogue, Microsoft Word has a template that takes the headache out of design and provides you with a document that is professional and clearly showcases your products and services to clients.

Tip: Use this to get a sense of your layout, and take it to a designer for those unique, more customised style touches.
7. Email marketing plan template
Regularly updating your database helps create a sense of loyalty and keeps your business top of mind when clients are in the market. Make it a little easier on yourself with this simple, adaptable planning template from HubSpot.

Tip: Don't focus on selling - plan some great content-driven emails to engage and nurture clients.

Contact your local Snap Centre for more tips on how you can simplify marketing processes and manage campaigns seamlessly.