Looking for Mad Men
Published: 19 July 2013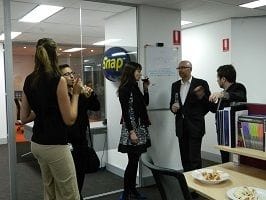 How do you create an interesting interaction with your clients?
We wanted to interact in a new way with our clients and having moved our premises was the perfect occasion to do so. We decided to run a series of four casual events in our Centre, from 5pm to 7pm, to meet the clients and put faces to names, building closer relationships. These events were also the occasion to show our clients our new wide format printers and wide format stocks available.
Drinks & Canapés were provided, and each attendee was offered to enter a draw to win an iPad. As many of our clients are advertising agencies or marketing and communication specialists we decided to choose the popular TV series 'Mad Men' as our theme for these events. Linking advertising agencies with Snap Circular Quay seemed the perfect way to bring the theme together.
All attendees were given a personalised goodie bag containing a Mad Men DVD, Mad Men Thank you post cards and note pad, a new financial year tent calendar and lollies. Lovely feedback was received and the winner of the iPad was announced on our Snap Circular Quay Facebook page.
These events have converted several pending quotes into jobs and have grown relationships between our sales representatives and their biggest clients.