Logo design trends defining 2013
Published: 13 August 2013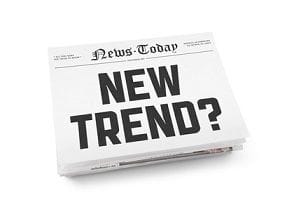 Trends for Logos
Logos may be small, but these little design gems pack a mighty branding punch.
That's why all eyes were recently on the LogoLounge annual logo design trend report. Each year, this leading design archive sifts through thousands of logos from across the globe to identify the key trends for the year. Here are some of our favourites for 2013.
Wave
Think of wine splashing and rolling up the sides of a wine glass. The wave has emerged in a number of logo designs, unsurprisingly across brands that represent liquidity, from wine to water. It's a fresh new take on movement that has progressed beyond the drop.
Here
The unmistakable inverted drop map pin has emerged as this century's defining icon for place and direction. Many brands have latched onto this ubiquitous icon and made it their own to convey a sense of 'here'.
Molecules
A favourite for research labs and scientific brands, molecular marks certainly represent a sense of precision. However, they also contain an interesting message about coming together, collaboration and creativity.
Nature marks
DNA, thumbprints, tree rings, mapped topography these manifestations of nature are surfacing in various logos, perhaps as a nod to originality, integrity or even grander concerns about the human condition.
Line craft
2013's standout trend has been the mostly black and white use of single stroke line. As LogoLounge points out, there is a subtle reference here to the work of the 1950s an elegantly old-world treatment of illustration and copy.
Written
The social interest in all things handmade has crept into logo design, with an abundance of marks utilising handwriting and a certain crafty aesthetic. It's homespun, cute and says 'soul'.
Badges
Badges and seal-like logos have been the charming surprise entry this year. Offering brands a 'stamp of approval' halo, these designs contain a certain sternness while simultaneously feeling lighthearted and a touch retro.
Need a new business logo, or time for a design update?
Contact Snap
to find out how our design team can bring your ideas to life.