Logo design tips - what makes a great company logo?
Published: 30 April 2018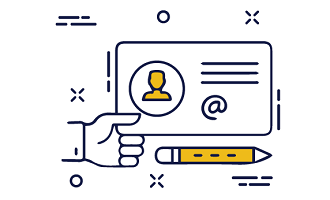 Is good logo design really that important? Or will any related symbol or eye-catching text be good enough?

Think of it this way.

Logos are often the first face of your business that many potential customers will see. And the face that keeps popping up to remind them that you're around when they need you.

They're also the friendly face that inspires trust, admiration and loyalty in regular customers. And the face that suppliers and competitors respect and recognise.

Of course, it's the people, service and product behind a logo that impacts the way outsiders feel about a business. However, a great logo helps encapsulate those feelings in a snapshot. Even as someone is driving past, turning pages or surfing websites.

A not so great logo doesn't create any emotional connection. And people buy more when they feel something.

So, yes, a carefully designed logo is important to any business.
4 powerful ingredients to include in your logo design

Here are four ways to make your stand out from the pack like some of the most recognisable brands in the world.

Keep your logo simple
The primary job of your logo is to represent your brand clearly and well. That means one easy-to-grasp idea.
The more elements that you include, the:
easier it is for people to be distracted from the core idea
harder it is for people to recognise your logo, or what it stands for.
Try to give your logo design enough visually appeal to catch eyes, without sacrificing clarity.
Two great examples of simple logo designs that say a lot are Nike and Windows. A glance at these simple, yet unmistakable logos, immediately instils trust in potential and loyal customers.
Be memorable
Most people don't believe good logo design means obvious relevance. For example, they don't always expect to see a car or a road in a car company logo.
What they value far more is how quickly and easily they can recognise and remember which company's logo they are looking at.
Having a simple logo goes part of the way towards achieving this. The rest is about ensuring your logo is distinctive, attractive and never likely to be confused with your competitors or any business in another industry.
You'd be hard pressed to find better examples of memorable and unmistakable logos than McDonalds and Coca Cola no matter what language the customer speaks, or country they live in.
Make it adaptable
When designing logos, many business owners are picturing picture the finished product on one or two current projects. Maybe it's to go on a new website or business stationery.
However, logos need to be able to perform well on any stage from business cards to billboards, email newsletters to events, promotional items to POS.
So, whether you're creating a new logo or redesigning an existing one, think about all the possible places your logo might end up. Not just for your business, but if a publication, event organiser or other party would like to use your logo online or offline.
As a rule, your logo should print perfectly at any size and, ideally, in black and white as well as colour.
The other form of adaptability is time. Try to design a logo that won't quickly date as soon as people move to the next design fad.
Two logos that manage these challenges perfectly are World Wildlife Fund and FedEx.
Reflect your brand
While your logo design shouldn't overstate what you do, it does need to speak to your target audience. It should reflect your brand as they see it now, or where your business is headed.
For example:
contemporary, quirky or traditional
playful fonts and colours, or serious and trustworthy options
If you don't already have a clear brand strategy, you should brainstorm questions before you start your logo design, such as:
How would you describe our business as a person?
What are four words that describe the business?
Why do our loyal clients use us?
How are we unique?
You may even want to interview some clients and prospects to get their thoughts.
Amazon's logo is simply its name with an arrow pointing from the A to Z, suggesting they sell everything at the world's mightiest river of e-commerce. Instagram's logo has been updated over the past 8 years to be more app-like, but it always ties back to a polaroid camera.
Whether you're creating a logo from scratch, or redesigning your existing 'face of the business', it's important to put some thought into your design.
Not just how it relates to your business and marketing strategy, but where and when your audience is going to see it.
If you need some professional help with logo design, talk to your local Snap Centre graphic design experts.
Author:
Snap Franchising Ltd