Lessons from the year past
Published: 31 December 2013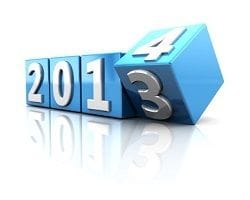 Look over the past year, and plan for the new year
Planning for the future is one of the most important steps in running a successful business. And looking to the past is the perfect tool to help you plan ahead. With the close of the year upon us, now is the time to review your 2013 marketing approach and make changes for a fresh 2014.
Here are four key questions you should consider when reviewing the success of your marketing campaign:
Was there ROI?
Was there a reasonable return on the money and time you invested into your marketing campaign? Whether you used print ads, video,
blogs
or social media, determining the costs of your efforts and comparing them to your business objectives is essential. Moving forward, choose where to invest your time and money based on how successfully your marketing campaigns influenced sales, as well as client acquisition.
Has my client base grown?
Understand what your business is doing to retain and keep in contact with your clients. Is it the monthly eNewsletter or your fantastic behind-the-scenes videos that are making the biggest impact on client satisfaction levels? By breaking down your marketing strategy into segments such as blogging or traditional print media you can better recognise the value of each.
Did 2013 fare better for me than 2012?
Year-by-year comparisons offer the best indication of what works well. Have your figures improved or is one segment now failing your marketing strategy? Year-by-year reviews also provide you with the opportunity to forecast what marketing campaigns may continue to help your business grow.
Are there any new marketing strategies on the horizon?
While you may have the perfect marketing strategy in place right now, the industry is constantly changing, meaning new and improving technologies will continue to make an impact on your marketing. Educate yourself about new opportunities and see if they would suit your business and marketing.
Contact your local Snap Centre today to learn more about our free Marketing Health Check service.