Keeping up the competition
Published: 31 May 2013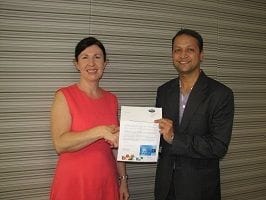 Competitions can help engagement
Many businesses would know that competitions can help to create great relationships with clients, new and old, and help to create new sales leads.
Here at Snap we have been experimenting with competition formats with our Centres, offering a variety of prizes nationally to our clients for brand awareness and lead generation promotions.
In March and April 2013, 150 Visa Debit Cards were given away in a 'scratch n win' style competition that used both traditional print and an interactive online scratch device to engage clients. This had many positive outcomes, including happy and excited clients receiving their prizes from our Centres.
Snap Darlinghurst found the promotion to be particularly useful for new leads. When Franchise Owner Rahul Daga contacted the winner in his territory, he found the winner was not a current client (Rahul is pictured with the winner).
As well meeting a happy prospect, an additional outcome for Snap Darlinghurst was the opportunity to quote for some of the winner's print. As an employee of a large national company currently undertaking rebranding of business cards and signage, the competition win was perfect timing.
Snap Darlinghurst and the rest of the Snap network are looking forward to offering our clients the chance to win one of five trips to Hawaii in our next national competition kicking off on June 3.