Just keep moving
Published: 24 May 2013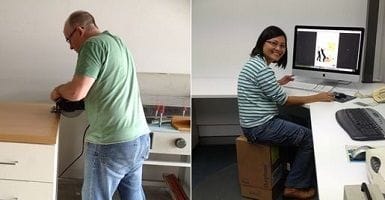 How easy is it to move your business?
In theory it should be a simple process. Choose some new premises, pack up and go. But the reality can be a little different.
Snap Silverwater recently moved into a new Centre at the beginning of April. The challenge was how to keep the Centre running and client work progressing during the move process, which required a complete fit out including painting and recarpeting as well as moving large and delicate printing machines.
Franchise Owners Damien and Leanne Cook worked weekends and over Easter, cleaning, painting, moving furniture, files and equipment. Attempts to recruit help from their offspring resulted in a flurry of urgent studying that needed to be finished!
While Damien and Leanne concentrated on the logistics of the move, their staff kept the Centre moving while the relocation was taking place around them, processing and completing $5,000 in orders during move period. The staff perched on cartons at makeshift desks and worked from boxes, unpacking whenever they had a moment to spare.
Now they have settled in, the team at Snap Silverwater are loving their new home and finally have all the boxes unpacked.