It's our birthday and the presents are on us!
Published: 21 June 2013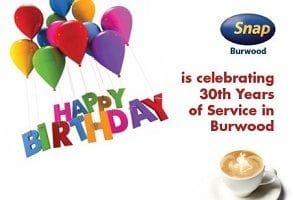 Celebrate a milestone and involve your clients
Milestones in your business are a great way to create a connection with your clients. Celebrations can take a variety of different formats, depending on your budget and what the milestone is.
Snap Burwood recently celebrated their 30th Birthday with a range of promotions to help them to connect with both their existing clients (to thank them for their continued support) and prospects (reinforcing their long-standing relationship with the local business community).
The first activity related to sales. A 15% Discount Birthday Voucher was delivered via email, post and telephone for the client's next order for a limited time period. This created an incentive to use Snap Burwood for their next print, design or website job.
Their top 50 clients received special freshly baked cupcakes with the Snap logo (produced by the local Woolworths), personally delivered to their office as a thank you gift for their support over the years. This was also an opportunity for Snap Burwood's new Sales Manager/Print Consultant Gina Turner to introduce herself to the client.
New prospects were given coffee and lamington vouchers - 5 cups of coffee and 1 lamington for 1 week. This also was a chance for Gina to meet with potential clients and form a connection.
These activities were well received, resulting in 22 enquiries for printing quotes and orders since the vouchers were emailed and posted.