It's All About "You "at Snap
Published: 25 February 2013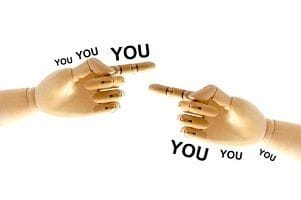 Engage your client
Effective communication is all about engaging the client and making them feel important and that you care. Simply changing your language from "we" to "you" can make an instant difference and dramatically increase your strike rate at winning new business. Using the "you" word is more effective because it makes sure your client is at the centre of your story and engaged in the conversation.
Why Use 'You' Instead of 'We'?
Using the word "you" instead of the word "we" helps transfer ownership to your clients because it causes their minds to unconsciously "try out" your solutions as you describe what they can do with it. Your client is no longer just a passive listener; they will be more actively engaged in your ideas and your products.

"You" phrasing has been proven to have a measurable impact. Researchers in the US tested attitudes toward cable television. They used two different scripts to sell the cable servicesone using the third person and one using "you" phrasing. Researchers found that when "you" phrasing was implemented, it increased sales by 50%. Now, that's impressive!
Start Changing Phrases Today
Once you start practicing with" you" phrasing, you'll find yourself in your client's world more than you have ever been. That will help you connect your story to your customers' story in a powerful wayone that they'll want to listen to because you're addressing their needs and concerns, and not your company's.

Here's a list of common phrases that can become more effective by using you phrasing:
"Our company allows you to "
"Next, I'm going to "
"We need to be able to "
"What if I could show you "
Now, see if you notice a difference in these phrases
"What you'll be able to do is "
"Next, you'll be able to "
"You need to be able to "
"What if you could "
"What you can do is "
The difference is subtle but powerful. By using "you" phrasing, you are helping clients unconscious minds feel like they're participating. In fact, "you" phrasing isn't just a technique; it should be your mindset. "You" phrasing forces you to live in your client's world, the place they need you to care about and understand if you want to increase business with them.

Using 'you' instead of 'we' is a simple and quick change, but one that will have notable results if you apply it correctly. So, next time you're creating a marketing campaign or other marketing communications content, use the word "you" to capture the attention of your audience. By doing so, you'll make them want to consider making a change and to choose you and Snap over your competition.