Is my print campaign working?
Published: 12 December 2018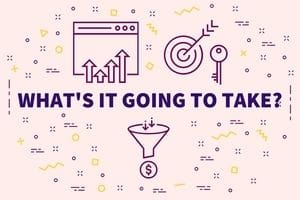 While tools like Google Analytics make it easy to measure the performance of online marketing campaigns, many marketers struggle to know if their print campaigns are delivering or not. To help you better understand what's working and what's not, here are four ways you can use to track your next print campaign more effectively.
1. Create custom web destinations and URLs
If your print campaign's objective is to direct prospects to your website, you'll need a way to differentiate these visitors from other website traffic. You can do this via:
Dedicated campaign landing pages: These can easily be linked to Google Analytics' campaign tracker. It allows you to measure things like the average amount of time someone spends on your page, the number of conversions, purchase value and where they left your website.
Redirected domains: You can create domains with short and memorable URLs that redirect visitors to a particular page on your main website. For example, johnslandscaping.com.au is easier to remember than https://www.johnsgarderner.com.au/service/landscapegardening. You can track these through your usual website analytics.
Shortened URLs: A free alternative to redirected domains are shortened URLs. Tools, such as Bitly, turn a long webpage URL into a short and trackable one that you can print on your brochure or business cards. The link's activity can then be directly tracked through your Bitly account.
2. Designate phone numbers
Designated phone numbers and call tracking software is another great strategy used to measure the success of printed marketing campaigns, allowing you to create different phone numbers for different ad campaigns. Some software even records calls between customers and staff, giving you the option to review conversations and make adjustments if required.
3. Use QR codes
A QR code is a great way to make your print campaign more engaging and interactive. You can add a unique barcode to virtually anything that you print for example, direct mail, brochures, business cards, signage and poster boards.
Customers can scan the QR code using their smartphone to see product information and videos on your site, coupons and special offers or competitions and giveaways. They also store valuable customer and location information and track the number of people who have scanned the QR code. You can quickly create your unique QR codes with free online tools, such as the QR Code Generator.
4. Offer discount codes
A simple and enticing way to get customers to take action is by creating unique discount codes for your print campaigns. Depending on where you want customers to redeem the code online, over the phone, in person or a combination of all three you can track them manually or, in the same way as QR codes and custom landing pages, through Google Analytics.
A well-executed print campaign is still one of the most effective marketing tools there is. But, as with any business investment, knowledge is power. By using these tactics you'll have a better understanding of how your print campaigns are performing, so you can create more effective campaigns and generate greater returns in future.