Introducing social media to your marketing mix
Published: 30 August 2012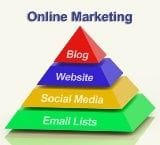 There's no denying that social media can help drive client relationships and spark awareness of your brand.
Small businesses with a solid social media presence are likely to enjoy higher levels of client loyalty a fact that bodes well for repeat business and your bottom line. Here are three quick tips for introducing social media into your marketing mix.
Know your social media channel
Facebook, Twitter, LinkedIn, Pinterest the plethora of social media options out there can confuse even the most online-savvy business. When thinking about your social media strategy, it helps to have a definite goal in mind this focus will help you pick the channel that's right for you.
For instance, Facebook is great for building a highly engaged community around your brand, but Twitter is best for sharing bite-sized links and addressing client service concerns. Relevance is also key to selecting the most appropriate social media channel. This means corporate firms might want to leave Pinterest to businesses with a visual bent and invest their energy in a more appropriate channel, such as LinkedIn.
Embrace social sharing buttons
Adding social sharing features on your website such as 'Retweet' and 'Share to Facebook' can allow clients to do the heavy lifting when it comes to your social media marketing. Make sure you also include these functions across your online newsletter to ensure your online marketing enjoys wide social media reach.
Update regularly
The real-time world of social media is powered by quick, relevant updates. Make sure you constantly interact with clients via your social media channel and focus on providing a regular stream of updates.
Contact your local Snap Centre to find out how we can help with your print, design or website needs.