Impossible print finishes - and why your customer's can't resist them
Published: 18 July 2018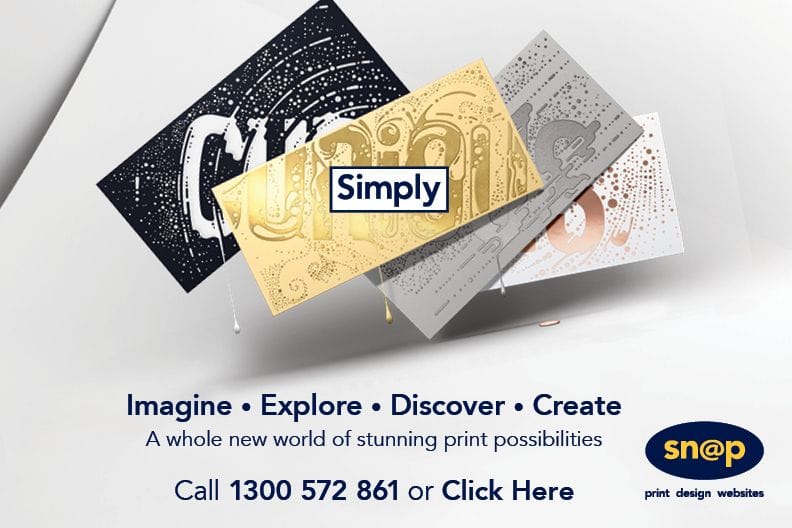 Has there ever been a time when businesses have had to work harder to win customers?
Not only do today's consumers have thousands of messages pouring in from all angles and devices, their attention spans are shorter than ever, and they've seen almost every marketing trick in the book which means they're tough to impress.
But don't throw in the towel just yet!
One proven, cost-effective marketing tactic is cutting through the deluge of junk and sameness to achieve more for many SMEs than just getting noticed.
New print finish technology and design is helping them create a huge impact on their target market's senses and emotions to attract and convert more business.
Science shows that print tantalises our senses
While we live in a digital world, studies have shown that printed material causes more activity in the brain than online content.
In a Quad/Graphics Customer Focus Research Study using MRI, 18-34yo were shown advertising material on a screen and on paper. The results were conclusive.
Print-in-the hand stimulated the brain far deeper than web content on the screen, because:
The feel smell and the glossy look of printed materials evoke more emotions than anything in pixels.
It provided both physical and emotional sensory connections to create a unique experience.
When they saw and touched the print pieces they were able to remember more details about them.
Unusual print finishes capture and hold attention
It goes without saying that well targeted, designed and written print products - brochures, direct mails, postcards, flyers, business cards, posters, etc can improve leads and sales.
But if you want to instantly fire up the minds of your busy target audience - and increase the impact and performance of your print marketing materials you should consider adding an unexpected and attractive embellished finish to the piece.
The selling power of curiosity
The reason unique, eye-catching print finishes work so well is because they heighten the print sensory benefits and brain stimulations discovered in the research - through the power of curiosity.
Without getting all science boffin on you, System 2 in our brain (the logical part) automatically becomes curious about, and hypnotised by, things we can see and feel, but cannot immediately explain.
That's why we love a good 'Who Done It?' movie or novel. And why Netflix is so popular because we can go to the next episode or series and get the answer to those hanging questions.
In a similar way, many intricate print finishes build insatiable curiosity in customer minds. They almost don't seem possible the first time we lay eyes on them. For example, text, logos or images:
floating on the paper surface like honey drops
shimmering under reflections off lights
glittering in luxurious gold or silver, elevated from the surface
Our brains can't immediately process what's happening so we need to look closer and discover what how it's possible.
When that curiosity is ignited, people also want to discover more about who's behind it.
So when you use eye-catching finishes on print marketing materials, special documents, invites, business cards, etc, it piques curiosity about your product, service or event, your business, and even you.
Exciting print finishes are now affordable for every business
While technology can have its downsides, the latest developments in print finish technology are certainly something for SMEs to celebrate.
It's now possible for even solo businesses to take their audience on a sensory experience with beautiful, tactile print finishes - on a tight the budget, even on short run jobs.
In this highly competitive day and age, that's got to be something worth looking into.
Curious to see what's possible with stunning print finishes?
If you'd like to know more about the many different ways that you can use print finishes to attract attention, leads and sales, take a look at some samples here.
If you'd like to see, feel and touch some print finishes in person, drop in for a chat at your local Snap Centre.
Author:
Snap Franchising Ltd